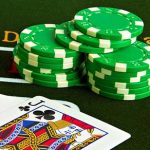 In the real world, status of casinos may vary depending on a region, but every film fan would agree that in the world of cinema movies about casinos and gambling always a synonym of tension and deception, risk-it-all attitude and good fortune in the end. As casino scenes appear in thrillers and action films, in comedies and crime dramas, let's remember the most remarkable movies where directors and screenwriters made this ambiguous establishment a full participant of their screenplays.
Casino Royale (2006). Director: Martin Campbell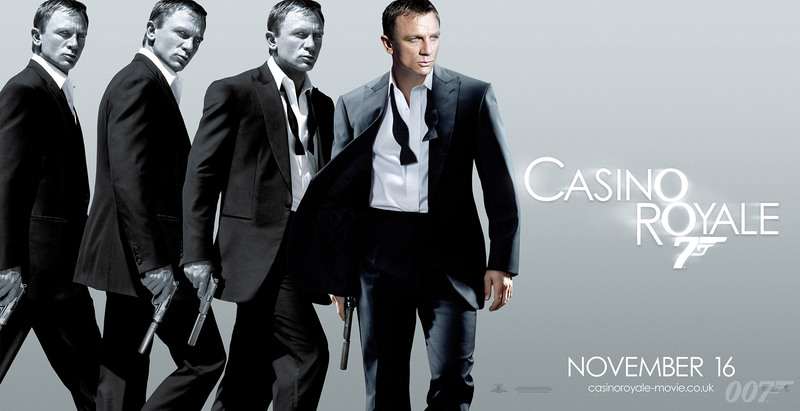 "Casino Royale" is probably the most obvious choice to start with: just because it is already crowned with the word "casino" in its title. First highlighted in "Dr. No" spy film (1962), a gambling theme became one of the hallmarks in the series about the world's most famous Secret Agent. And it is a casino where the main character of the classic film franchise shows up for the first time uttering his signature expression "Bond, James Bond". Four decades since then, Secret Agent James Bond (played already by the sixth actor in a sequence) is still on a roll: saving the world, stealing hearts of most gorgeous women, and playing at a casino.
Amidst huge action sequence happening, with multiple chases and shoot-outs, the emphasis of the film, however, is placed on the high-stakes poker game at a famous Casino Royale in Montenegro. With the mission to defeat Le Chiffre, a private banker to the world's terrorists, Bond enters the most exciting game in his already dangerous career.
"Casino Royale", the twenty-first film in the James Bond series, became a solid landmark in the development of blockbusters. Meanwhile, it was the first film in which Daniel Craig tried on the Agent 007's image. Initially, some critics considered the choice of casting directors as controversial, but it was only with Craig that the franchise took incredible box office and world-wide success. Bond's girl and his poker partner is played by magnificent Eva Green.
It is curious that the film is the third screen adaptation of Ian Fleming's 1953 novel of the same name about the adventures of James Bond. In 1954, the American TV version of "Casino Royale" was released, and in 1967 – a John Huston's parody film of the same name came to light. But neither of these two films was included in the official series list.
Ocean's Eleven (1960). Director: Lewis Milestone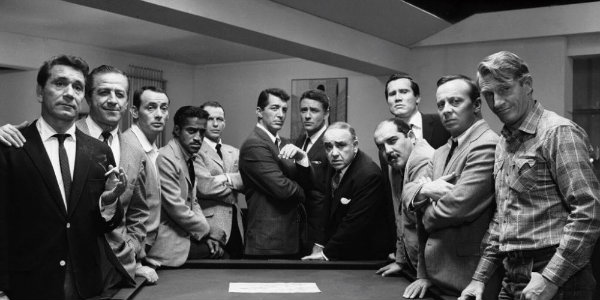 A classic heist movie spiced up with great music.
Eleven veterans of World War II with Danny Ocean as the mastermind come up with an ingenious plan to rob five Las Vegas casinos throughout one night. The crew is back in action but when millions of dollars are already taken from the casinos, the elaborated plan goes wrong, as is usually the case. From the beginning until the end the comedy and giggles along with moderated action are continuous. Numerous jokes and pretty songs bring us back to charming old Hollywood though it all looks rather frivolous and shabby by today's standards.
The main roles in the movie are played by the representatives of an informal group of entertainers known as the Rat Pack. In the early 1960s, they appeared together not only on stage and in films but also in Las Vegas casino venues. The great Frank Sinatra, who played Danny Ocean in this film, was also among them.
In 2001, a modern remake of the classic movie was released – the eponymous film in which George Clooney played Danny Ocean. The main character recruits a team of professional thieves played by Hollywood stars such as: Brad Pitt, Matt Damon, Casey Affleck, and others. The goal is almost the same as forty years ago – to rob simultaneously 3 casinos. This new film was followed with two more sequels and even a spin-off with an all-female lead cast, but no sequels were able to replicate the worldwide success of the 2001 franchise.
21 (2008). Director: Robert Luketic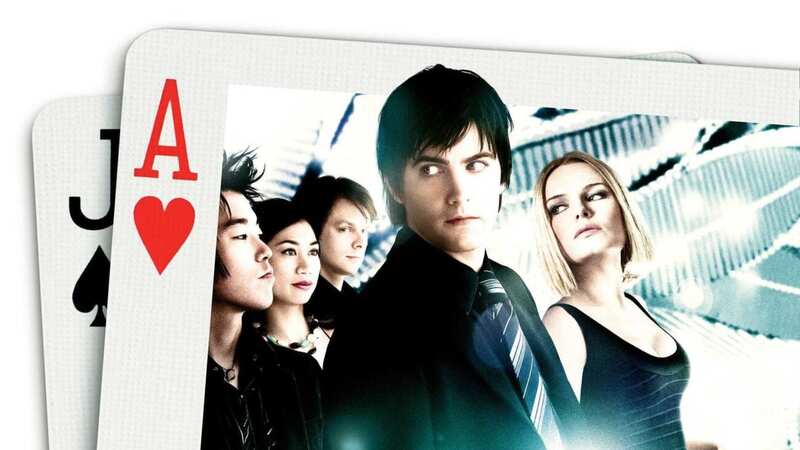 This film is not about robbing a casino, but about trying to win at cards using math.
The main antagonist in the movie is Micky Rosa, an unorthodox math professor at the Massachusetts Institute of Technology (note, the M.I.T. is one of the most advanced technical universities in the Western world). The reason is his long-time obsession with blackjack: moreover, using his sophisticated mathematical skills, he led by example and began to win at casinos. But the world of gambling shows no tolerance towards such individuals and their approaches, and now Mr. Rosa is forbidden even to come close to any casino's doorstep. However, the professor, played by Kevin Spacey, decides to act almost like Danny Ocean, he assembles a team of not thieves, though, but talented students, one of which is the prodigy Ben Campbell (played by Jim Sturgess).
Guided by mathematical methods, new players are eager to win at the casino, but are they ready to race across the obstacles of a different order? Meanwhile, criminals have already drawn attention to a group of talented students and keep watching geniuses as well.
Casablanca (1942). Director: Michael Curtiz

You can't miss "Casablanca", an American romantic drama filmed and set during World War II and directed by legendary Michael Curtiz. Since then, "Casablanca" consistently ranks at the top of lists of the greatest films in history. We couldn't ignore this fact and included this iconic movie to our list.
Dozens of books have been written about this classic melodrama but now let's remember about the film and its main character performed by the great actor Humphrey Bogart. His character, an American expatriate Rick Blaine, lives in Morocco and runs his cafe "Rick's Café Américain" in Casablanca with a nightclub and a gambling den. Here come all the guests of the city flock in search of alcohol, entertainment and gambling, and this is where most of the film's scenes take place. Even if we can't define "Casablanca" as the marked film about gambling, this is an obvious reason to revise this cult masterpiece which was nominated for eight Academy Awards, and won three.
Molly's Game (2017). Director: Aaron Sorkin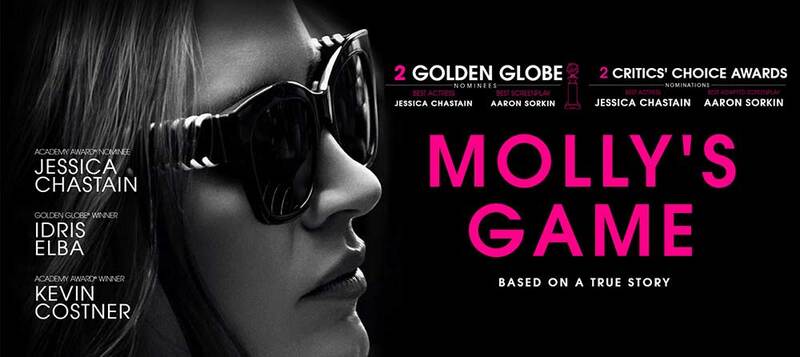 And here is a movie based on real events.
Molly Bloom is an absolutely extraordinary person whose motto from the very childhood is: the best cure for defeat is a victory! Despite her spinal trauma, the girl did a lot of ski freestyle, namely 'mogul', and even was selected to the US Olympic team, but a new terrible accident crossed her path to a sports Olympus, this time irreversibly. Then we root for Molly as she begins to learn, moves from her native Colorado to L.A., as she faces disrespect from her boss and unwittingly falls into the epicenter of poker battles …
Gaining more confidence with each personal defeat and victory, Molly, over time, started to run the world's most exclusive high-stakes poker games. Now, movie and sport superstars, celebrities of all kinds and famous businessmen were waiting for weeks for their turn to join Molly's poker club. At some point, law enforcement agencies became interested in her activities, and in 2014, Molly receives a 12-months suspended sentence. But deep at heart, she seems to feel calm and relieved like never before. Another milestone of her life is behind, and if one could count all her ups and downs, it'd be a sure draw. And a good start.
In 2017, the premiere of "Molly's Game" based on the story of Molly and her famous tournaments, took place. The film was directed by the great screenwriter Aaron Sorkin, and Molly Bloom was played by Jessica Chastain. Other roles include: Kevin Costner, Idris Elba, Chris O'Dowd. All these names are a good reason to watch this film which is not only about casinos but also of a great dramatic life. Wonder why the film was nominated only for 'Best Screenplay'.
Casino (1995). Director: Martin Scorsese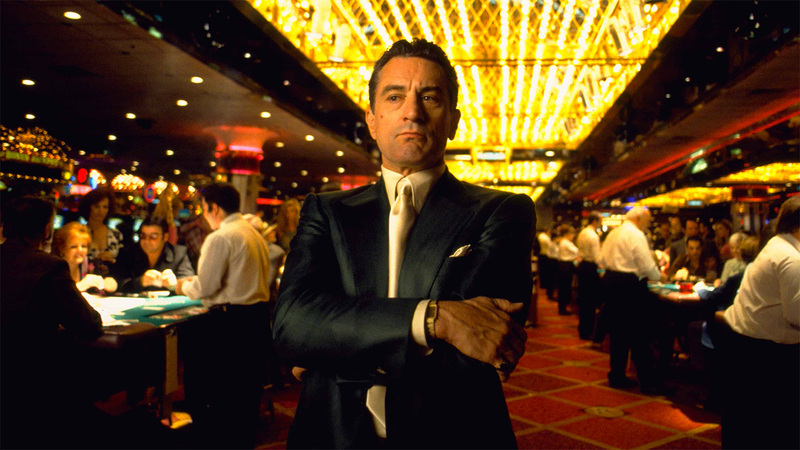 Our list surely would be incomplete without an American epic crime film "Casino" directed by the legendary Martin Scorsese.
A former gambling expert Sam "Ace" Rothstein is asked by the Chicago crime syndicate's bosses to oversee the casino operations in Las Vegas. Soon, as a result of his effective management, the casino's profits double and get skimmed by the mafia before taxes are paid. Here appears Nicky Santoro, also sent by the clan to protect Sam and the skimming operations. They are childhood friends but Nicky's explosive temper and criminal background cannot go unnoticed. Sam, in his turn, falls in love with beautiful hustler and dancer Ginger McKenna. They get married and have a daughter, but their marriage is quickly thrown into turmoil due to Ginger's relationship with her ex-boyfriend Lester. It's not a secret to both of them that she's always perceived Sam merely as 'a money bag'. As far as their marriage falls apart, Ginger turns to alcohol and drug addiction. The relationship between Sam and Nicky are also collapsing: two friends in the past now compete against each other over a gambling empire.
The Chicago bosses closely monitor the escalating of crisis and try to salvage the situation somehow. But the FBI is not asleep as well: they're looking forward for the day when they get in the game and arrest all the gambling business tycoons.
A complex, multilayered, beautifully directed film, Martin Scorsese's "Casino" is a masterpiece of destruction and betrayal. The acting by the leads is outstanding and rightly awarded. It stars Robert De Niro, Sharon Stone, Joe Pesci, Don Rickles, Kevin Pollak and James Woods.
Amazing director, amazing cast, amazing film. This epic movie should not be missed.
The Gambler (2014). Director: Rupert Wyatt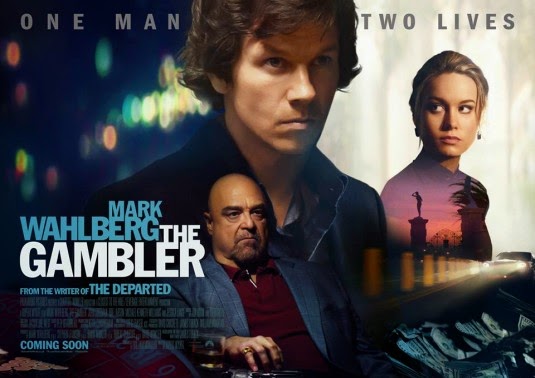 We've got something up the sleeve. Some argue that this movie's about gambling obsession, others suggest it's a drama of a man who's trying to find inspiration and hope. You decide.
Literature professor Jim Bennett is a real risk taker who spends all his time and money on the casino, and according to the genre's rules, he owes a huge amount to the wrong people.
This picture is a remake of the movie "The Gambler" which was first shown in 1974. The new version of the story is filmed in a modern way, with good action and excellent cast. The main character is played by Mark Wahlberg, Jessica Lange plays the gambler's mother, John Goodman plays the crime boss Frank, and his girlfriend is played by the rising star Brie Larson. In contrast to the original source, "The Gambler" 2014 version is more of a thriller that removes the emphasis from a serious drama about obsession.
The Cincinnati Kid (1965). Director: Norman Jewison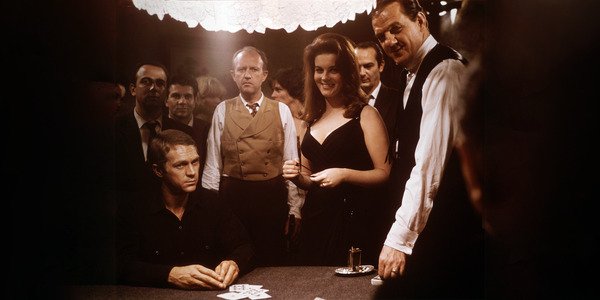 An American drama film is transporting us to the Great Depression era.
The main character of the film is a young stud poker player Eric Stoner who received a nickname 'The Kid'. He travels from one big game to the next, stopping along the way up with various girls. But it's not just a huge win disturbs Eric the most, he is obsessed with steadfast desire to get a victory over Lancey Howard himself, the best poker player in New Orleans. Howard is often called 'The Man', and Stoner dreams of getting himself this unofficial title. He hates to be always "second best" as long as Howard is around. The viewer follows the intriguing poker battles not understanding to the very conclusion whether 'the Kid' beats 'the Man' or not.
Steve McQueen, a charismatic Hollywood legend, together with Edward G. Robinson who played Lancey Howard, made a great leading tandem.
Run Lola Run / Lola rennt (1998) Director: Tom Tykwer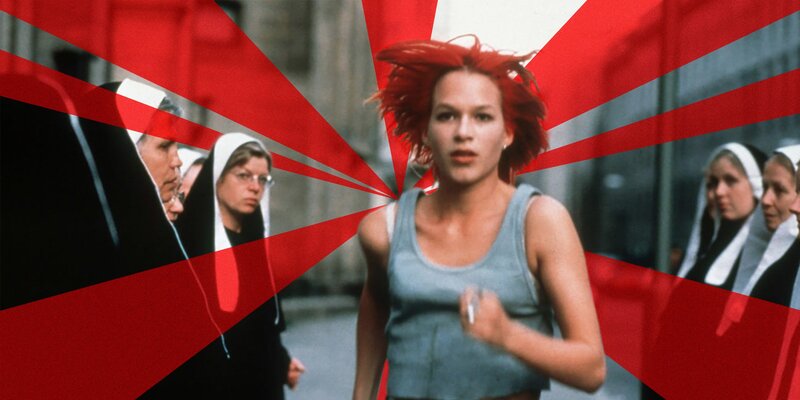 Now let's rewind a video-cassette of time a bit backwards, to the bittersweet 1990s, and pretend we are at the middle of newly-liberated distracted Berlin. What do we see? The red-haired girl Lola rushing in utter panic through the fussy streets. What happened? Lola has just received a phone call from her boyfriend Manni who had lost 100,000 Deutschmarks in a subway train. Could it be even worse? Yes, the money belongs to some mad mafia guy, and Lola has only 20 minutes to raise this amount and meet Manni, otherwise… no, then run, Lola, run!
This vivid phantasmagoria which exposed to the audience such names as Tom Tykwer, Franka Potente and Moritz Bleibtreu offers us several options for the story as fortune gives Lola several attempts to help her boyfriend. And just at some point, the casino might be the right place for Lola and her friend Manni.
"Run, Lola, Run" is an epic German picture from the 90s, which after two decades still looks innovative. We recommend watching it, even if the film has dubious relevance to our topic.
Of course, any of us would call another good dozen of worthy movies with a gambling element as a basis or a part of a plot, but we focused on these nine believing that the chosen topic is disclosed in them to the utmost. Hope our list would be useful, and you wouldn't have to wonder how to spend next few evenings. In addition, now you can test your knowledge of movies and casinos joining online test. Good luck!
Меня зовут Игорь. Я из тех, кто постоянно выискивает себе новые увлечения. Начинал с зоологии и чтения в детстве и докатился до путешествий, кино и истории искусства. Не могу жить без новых книг, новых телешоу и новых стран. Свято верю в науку, доброту и то, что впечатлениями надо делиться. Учу языки, планирую поездки разного километража и пишу про кино и сериалы.