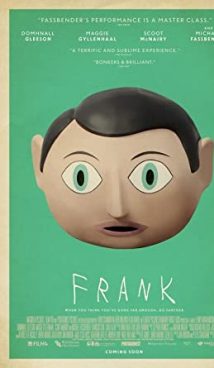 English, French, German

7.0
Synopsis
The young English musician miraculously becomes a member of a rock band that comes to his town on tour. The leader of the group is Frank, a charismatic American, who always wears not even a mask, but a real doll head. No one sees his face, but Frank sometimes voices his facial expressions. Together with a new member, the music band goes to Ireland to record another album. The beautiful nature, funny chemistry of the band members, and great acting, even of someone who does not show their faces, make Frank a great movie.
Interesting Facts
Frank was first shown to the public on January 17, 2014, at the Sundance Film Festival, where it made a splash.
The film was directed by Lenny Abrahamson who was nominated for an Oscar for the film Room in 2016. In 2020, he released the super hit TV-series Normal People, based on Sally Rooney's bestseller of the same name. Now Abrahamson is working on the adaptation of another work of Rooney, the TV-drama Conversations with Friends. The potential hit is likely to come out in 2021.
The image of Frank was based on the British comedian Chris Seavey who performed with a mask on his head and portrayed a musician from an English village. By the way, co-author of Frank's script, John Ronson, took part in Seavey's performances
It is interesting that initially Johnny Depp could play the lead role, and the events take place in Sweden. But Abrahamson changed the location to Ireland. By the way, the lead roles were played by two Irish actors who portray immigrants from other regions: Domhnall Gleeson's character is from England, and Michael Fassbender's is from Kansas.
Information
This is a British-Irish musical comedy film.
The world premiere of Frank took place on January 17, 2014.
More Like This
Filth
Fish Tank
Room
Submarine
Tags: comedy, drama, music, Ireland, mask, Michael Fassbender