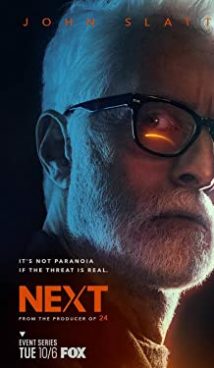 Synopsis
We live in the era of hi-tech, when everyone has smartphones and computers are installed even in cars. Everyone is pleased with new opportunities and life in the information field. But what if artificial intelligence acting in its own interests and not for the good of humanity appears one day? This technology is capable of destroying anyone who gets in its way.
Next TV series shows such a scenario. Paul LeBlanc, the main character and founder of an IT company, began to suspect that artificial intelligence appeared in the world, dangerous to all of humanity. He, along with Shi Salazar, a cybersecurity specialist, confronts the digital mind, which is capable of self-development.
Interesting Facts
Manny Cotto, the project showrunner, is best known for his work on "Dexter", "24" and "Star Trek: Enterprise", acclaimed hit series.
Next TV series will premiere on October 6, 2020 on Fox. Season 1 includes 10 episodes that will air on a weekly basis.
Initially, the series was supposed to be released six months ago. However, due to the coronavirus pandemic, the production of the TV show was delayed and its premiere was postponed until the fall.
John Slattery, well known to viewers for his role as Roger Sterling in the "Mad Men" cult TV show, will star in the television series. It is noteworthy that this new role is very similar to the one he played earlier in the MCU – Howard Stark, inventor, founder of Stark Industries and father of Iron Man.
About
Next is an American-made television series filmed in the fantasy thriller genre. The first season will premiere on October 6, 2020 on US Fox.
Related Shows
Tags: hi-tech, artificial intelligence, self-improvement, cybersecurity