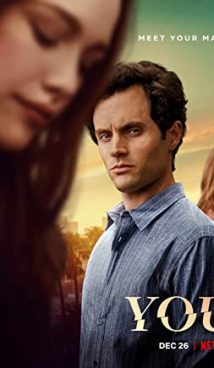 Synopsis
At first glance, Joe Goldberg (Penn Badgley) is a completely ordinary guy.  However, falling in love with girls, he becomes ready for anything for his passion, including espionage, stalking and even murder.
After the events of the first season, Joe escapes from New York to the to Los Angeles, West Coast. Having changed his name, he does not change his lifestyle. He again meets a girl who will take over his mind. However, is Love Quinn who make Joe goes back to his old ways is so beautiful and innocent?
Interesting Facts
The "You" TV series premiered on December 26, 2019 on the Netflix streaming service, with all episodes immediately available for viewing.
Commissioned by Lifetime American cable channel, the TV show's Season 1 hasn't caught the attention of viewers. As a result, the project was closed. However, the Netflix streaming platform bought the rights to the television series and filmed a new season which – with more than 60 million views – has been very successful. Unsurprisingly, the TV series has been renewed for a third season which will premiere in 2021.
The "You" TV series is based on the series of novels by Caroline Kepnes. Two books have been published so far and the third will be released in 2021. Presumably, Season 3 of the TV series will be a free adaptation of the third book in the series of novels.
Sera Gamble and Greg Berlanti are the showrunners of the TV series. Gamble is best known for her work on "Supernatural", "Aquarius" and "The Magicians", hit series. As for Berlanti, he is one of the creators of the thriller "Blind Spot" and the DC comics television universe.
About
"You" is an American-made television series based on the psychological thriller series by Caroline Kepnes. The second season of the TV show premiered on December 26, 2019 on the Netflix streaming platform.
Related Shows
Blind Spot
The Magicians
Aquarius
Dexter
Tags: drama, addiction, romance, drama, murder, obsession, maniac, film adaptation, love