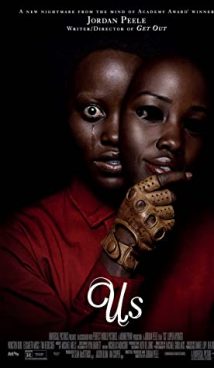 Synopsis
In 1986, severely traumatized in a mirror maze, now matured and kind of recovered, Adelaide (Lupita Nyong'o) goes to Santa Cruz with her family, where they have their own beach house. But, suddenly, Adelaide, her husband Dave and children are faced with a gang of bloodthirsty doubles. Doppelgangers infiltrate the family's house and now threaten their lives. Will the family be able to resist those who look and think like them?
Interesting Facts
The first release of the film took place on March 8, 2019 at the South by Southwest American Film Festival in Austin, Texas. The world premiere of "Us" movie took place on March 20, 2019. Since the end of spring of 2019, the film has been made available for viewing on streaming platforms.
According to Jordan Peele, director and producer of the film, "Us" was inspired by an episode of the "The Twilight Zone" TV series. The 21st episode of the show, which was released in 1960 under the title "Mirror Image", is considered one of the best in the anthology. Incidentally, Peele is directing the restart of "The Twilight Zone" – in 2020, the second season of the updated anthology was released, where Jordan is the showrunner and presenter.
Grossing over $ 70 million on its first weekend, "Us" is the record-breaking original horror movie.
Before filming began, Jordan Peele asked the actors to watch a dozen classic horror films such as "The Shining", "The Sixth Sense", "Jaws" and "The Birds". It is noteworthy that the film contains many references to Stanley Kubrick's "The Shining", and one of the roles is played by Duke Nicholson, the grandson of Jack Nicholson. Incidentally, Jordan Peel initially did not know who Duke's grandfather is.
About
Us is a co-production horror film premiered on March 8, 2019 at the South by Southwest Film Festival.
Related Films
Get Out
It
It Chapter Two
Hereditary
Tags: horror, blacks, lookalikes, murder, death, attraction, Lupita Nyong'o, Elisabeth Moss