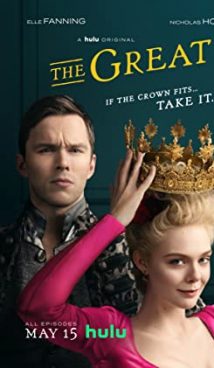 TV-MA
01 hours 00 minutes
Synopsis
Welcome to Russia, the land of bears, vodka, and bogus stereotypes.
The creators of The Great did not only repeat everything about balalaikas and matryoshkas but also deliberately turned the entire Russian history of the 18th century into some special sort of craziness. There are monuments of tsars on bears, black nobles, and Peter III is the son of Peter the Great. The mayhem begins in the first episode, where a German princess arrives at the Russian court to become empress. Then the plot rushes to the finale falling into madness and absurdity but showrunners prepare us in advance for the shock content, from the very beginning informing us that this is an "episodically true story."
Interesting Facts
– The Great showrunner, Tony McNamara, was nominated for an Academy Award a year ago for The Favourite's script. The Great and The Favorite are related by the setting, main character, and absurd humor. McNamara's next work is Cruella with Emma Stone as the villainess from 101 Dalmatians. Cruella's origin story is set to premiere in the spring of 2021.
– It is not hard to guess there was not a single shooting day of The Great spent in Russia. Almost everything was filmed in Great Britain, and the role of the Romanovs' palace got the residence of the Neapolitan kings in Caserta, Italy.
Information
This is a British-Australian-made absurdist biographical comedy TV-series.
The premiere of the first season took place on June 15, 2020 on the Hulu channel.
FAQ
What channel is behind the series production?
The Great was filmed for the American channel Hulu.
Will there be a continuation?
Yes. In July 2020 Hulu producers renewed The Great for the second season.
More Like This
Catherine the Great
Another Period
Dickinson