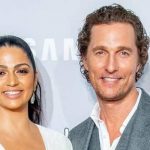 There's a scene in Dallas Buyers Club (out this weekend) in which Matthew McConaughey — playing a man recently told he has HIV and thirty days to live — unleashes a heartbreaking wail of despair, his gaunt face contorting to become all anguish and tears. In that moment you don't even recognize the actor anymore.
That would have been unthinkable five years ago. Then he never faltered from the image of him we knew too well: suntanned good looks, roguish smile, charming swagger, inability to stand up, principled or amiable characters always coming up on top. It's an image that was effective at the start of his career, but soured when he got stuck in cinema purgatory (romantic comedies and Al Pacino movies) and became a punchline about his perpetual lack of shirts and dependable delivery of Kate Hudson vehicles.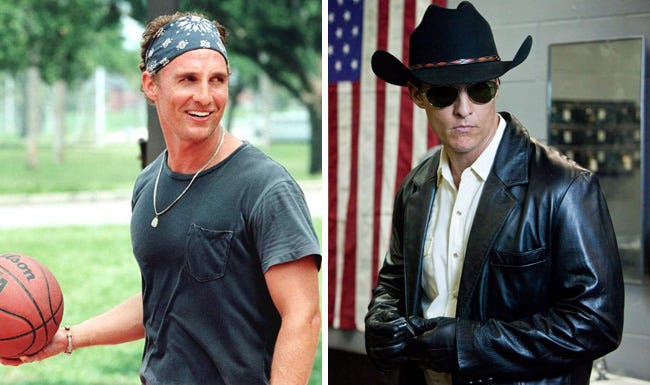 Then to the surprise of everyone, he became good again. In 2011's The Lincoln Lawyer, a McConaissance began that saw him not just stretching as an actor, but playing intriguingly against type. Seven films in and he's still going strong, so we thought we'd go ahead and celebrate his turnaround by ranking his efforts not by quality, but by how successfully he's played against type to help us forget Fool's Gold ever happened.
Matthew McConaughey's Most Anti-McConaughey Roles, Ranked
6. THE LINCOLN LAWYER (2011)
A gentle first step into the journey to play against type. McConaughey plays a defense lawyer who is pretty familiar: handsome man in a suit, smooth-talking and cockily charming the system. But beyond a return to non-coasting acting form, there are hints of what's to come. He does play someone who ultimately wins the day, but his confident invincibility is challenged and shaken (by Ryan Phillippe of all people). What's more, as he falters we're frequently moved past the actor's good looks and shown up close how deep and weary those wrinkles around his eyes are that we're used to only seeing when he's flashing his million-dollar smile.
5. MAGIC MIKE (2012)
The role of Dallasseems initially less like it's against type and more like it was the actor's inevitable destiny: Cinema's most famous shirtless man plays a male stripper. Look past the expected cowboy attire and oiled-up buff torso, though, and he's cleverly playing with type in order to play against it. It's self-parody, but not just of his half-naked reputation, his colorful bongo arrest, or his Dazed and Confused character (there's an "all right, all right, all right" reference in there). Dallas is a sleazy satire of McConaughey's rom-com phase. Both are shrewd showmen selling a female demographic exactly what they want, sweet-talking with promises to get it on all in the interest of running a business based on "fulfilling every woman's wildest fantasies."
4. BERNIE (2011)
Matthew McConaughey plays a bat-of-justice-wielding, re-election-hungry district attorney named Danny Buck Davidson. We would probably stop right there if Bernie weren't so intent on gleefully burying the actor's good looks beneath Clearance Sale glasses, secondhand suits, a big honkin' cowboy hat, and unflattering gray hair. This is the Texas actor as Southern nerd and goody-goody. His usual charm turned into false bravado, his confidence twisted into transparent self-aggrandizement. He's playing someone who thinks he's the hero in a Matthew McConaughey movie, when in fact he's a small-town villain whose pursuit of justice is grandstanding self-righteousness. No one is rooting for him — including us.
3. MUD (2012)
Chipped tooth, dirt-smeared face, sun-bleached ropey hair, bad tattoo, and incapable of eating food without spilling it all over his chin or forearm napkin, this is Matthew McConaughey at his most ordinary and mortal. It's also him at his most Charlie Brown sad-sack. He may seem a mystical badass at first, but Mud is a fallen-idol story. Just as his worshiping young friend, Ellis, sees his vision of McConaughey's character stripped of its romance, we experience the same with the actor's image here. What we're left with is the actor playing a likeable but pathetic mopey man-child, stuck on a crush from his youth, and whose life has never moved forward as a result. What's more, he's a murderer, admittedly one whose motives were understandable if not condonable. When Ellis tells Mud he's a good man, with a sheepish smile Mud says, "No I ain't."
2. THE PAPERBOY (2012)
Beyond Lee Daniels's obvious intent to anoint Zac Efron with more screen and shirtless time, in The Paperboy the director seems to see McConaughey's handsomeness as an opportunity for clumsy chainsaw art. If the image of the actor naked, hogtied on the ground, and brutally assaulted weren't enough against type, Daniels later goes ahead and sits him naked on a toilet, gives him Bond-villain face scarring, and then an eye patch. He looks like Kevin Kline's character from Bob's Burgers. It's not just what happens to McConaughey's looks that's against type, however. Ward Jansen is an investigative journalist out to free a wrongly convicted — if not exactly innocent — man. Except he doesn't win the day at all. Instead he accomplishes little more than sweating through lots of shirts, stumbling through the Everglades losing shoes, having to awkwardly watch Nicole Kidman perform air oral sex on John Cusack from across a room, and having his throat brutally cut with a machete wielded by the convict he helped free. It's basically the polar opposite of The Lincoln Lawyer.
1. KILLER JOE (2011)
McConaughey here does to his expected image what his deviant hitman cop character, Joe Cooper, does to his target: kills it, puts it in the trunk of a car, and sets it on fire. He may dress as we'd expect (nice clothes, cowboy boots and hat), but this is the bizarro antithesis of anyone he has ever played. His seduction is turned uncomfortably on an underage girl whom he orders instead of charms. His roguish cockiness becomes sociopathic assertion of superiority. He remains largely emotionless, except when he takes a break to smash TVs or threaten to cut people's faces off and wear them. As for his almost nonexistent smile, when it does appear… Well, you don't want to be there when he's happy. Those moments — like McConaughey in the entire film — are like rusty nails that'll give you incurable tetanus.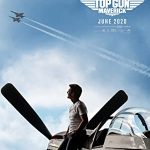 Jag är en katt och en redaktör, jag samlar in och publicerar nyheter om filmer och TV-program för dig.