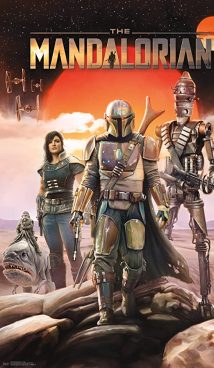 Synopsis
The Mandalorian was Disney's first live-action series in the Star Wars universe. Unlike blockbusters, the Mandalorian plot is not focused on something global, but the adventures of a lone bounty hunter. A native of the Mandalorian clan, Dean Jarin travels from planet to planet, fulfilling orders to catch criminals. However, the new assignment, which seemed simple from the beginning, completely changes the world of Dean Jarin.
 Interesting facts
The Disney bosses entrusted the creation of "The Mandalorian" to John Favreau, who is famous as a pioneer. He directed not only еру Iron Man, which kicked off the Marvel Cinematic Universe but also The Jungle Book, the first film based on classic Walt Disney animations.
Fortunately, the second season of The Mandalorian was filmed before quarantine, and we will see new episodes this year, roughly in October. The cast includes Timothy Olyphant and Katie Sackhoff. Also, insiders report that we will see the beautiful Rosario Dawson as Ahsoka Tano. This character is taken from the animated series "The Clone Wars" of the same universe.
By the way, in the fifth episode, we see a robot bartender. He was voiced by actor Mark Hamill, primarily known as Luke Skywalker, from the very first Star Wars trilogy.
Now Disney is working on another series from the Star Wars universe. The unnamed project will be dedicated to the adventures of Cassian Andor, the hero of the movie "Rogue One."
There are several casting Easter eggs in the series: Werner Herzog, the German cult director, plays the role of the imperial customer, and Nick Nolte, the farmer, plays Quilla. And Taika Waititi voiced the IG-11 droid. By the way, he directed the eighth episode.
 Information
American-made television series was shot in the genre of a space western.
The first season's world premiere took place on November 12, 2019, on the Disney + platform.
 FAQ
What channel is producing the series?
The Mandalorian has become the flagship of the new Disney + streaming service.
Yes, The Mandalorian has been renewed for at least two more seasons.
 Related Series
Expansion
Firefly
Star Wars: The Clone Wars