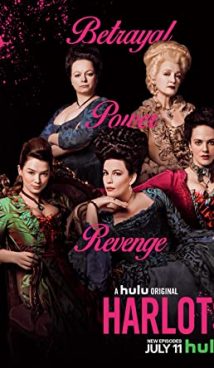 Synopsis
While many viewers are accustomed to marvelous historical costume melodramas with their gallant gentlemen and beautiful ladies making small talk in stunning interiors, the "Harlots" TV series offers a look at 18th century London through the eyes of sex industry workers.
The brothel owner Margaret Wells, who not only manage her harlots, but also brings up two daughters – by the way, who are also representatives of this profession – is at the center of the TV show's plot. Featuring everyone from slaves to nobility, this TV series is a fascinating guide to every section of mid-18th century London society. Moreover, it is a multi-part production drama with an interesting plot and great actors.
Interesting Facts
"Harlots" is a joint project of the American streaming platform "Hulu" and the British channel "ITV Encore". Premiered on March 27, 2017, the TV series has been renewed twice with a third season that is final. In the summer of 2020, the TV show was officially closed.
Samantha Morton and Leslie Manville, wonderful English actresses both nominated for an Academy Award (Morton has two nominations), act as brothel hostesses. After "Harlots" was shut down, Morton and Manville moved on to other television projects. While Morton portrayed the villainous Alpha in "Walking Dead", Manville will portray Princess Margaret in the fifth and sixth seasons of "The Crown".
"Harlots" is inspired by the book "The Covent Garden Ladies" by the historian Hallie Rubenhold. It is noteworthy that the writer was a guest consultant for the TV series.
About
"Harlots" is a US-British co-production historical drama TV series. The first season of the TV show was released on March 27, 2017 on the UK TV channel ITV Encore and the US streaming platform Hulu.
Related Shows
Belgravia
The White Princess
Bridgerton
The Great
Versailles
Tags: drama, history, Britain, London, harlots, brothel, Samantha Morton, Liv Tyler