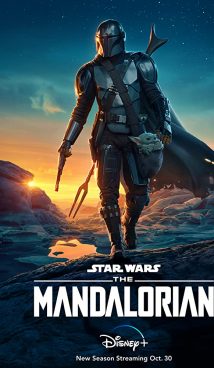 Synopsis
Galactic adventures of the silent Mandalorian bounty hunter Din Djarin will continue. In the second season of the TV series, he goes about his business accompanied by a charming baby Yoda. Soon, Dean and his tiny friend will face the Jedi, a mysterious order that all Mandalorians call sorcerers.
Did You Know?
First episode of The Mandalorian's second season will be released on October 30, 2020 in the United States on the Disney+ streaming service. New episodes of the show will be released weekly.
Pedro Pascal (Mandalorian), Gina Carano (Cara Dune) and Karl Weathers (Greef Karga, leader of the Bounty Hunters' Guild) will return to their roles in the new season.
Also, in the second season, a serious replenishment of the cast is expected. Katie Sackhoff will appear as the former ruler of Mandalore, and Timothy Olyphant will play a former slave who will receive the armor of the famous bounty hunter Boba Fett. Boba will also appear in the series, played by Temuera Morrison.
We will also most likely see actress Rosario Dawson, who will play the role of Ahsoka Tano, a Jedi and former Padawan of the powerful Jedi Knight Anakin Skywalker. Information about Ahsoka's inclusion in the series' characters appeared long time ago, but the producers of the show did not confirm these rumors.
Two episodes of the TV series were directed by Robert Rodriguez (From Dusk Till Dawn, Sin City) and Peyton Reed (Ant-Man).
The second season of "The Mandalorian" was filmed before the start of the coronavirus pandemic and it will go on air without delay. Filming for the third season began in the fall of 2020, but the showrunners have not announced a release date for new episodes of the TV series.
Information
American-made Sci-Fi TV series. The second season of The Mandalorian series will be released on October 30, 2020 via the Disney+ streaming service.
More Like This
The Expanse
Firefly
Star Wars: The Clone Wars
Tags: Adventure, Space, Baby Yoda, Galaxy, Bounty Hunter, Star Wars, Sci-Fi, Franchise