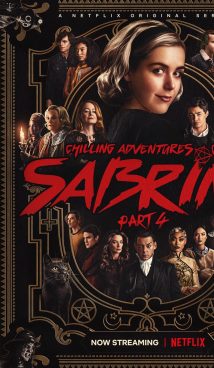 TV-14
01 hours 00 minutes
Synopsis
This is the final 8-episode season about the adventures of the young witch Sabrina. Before the TV show to be canceled finally, the main character challenges the Emptiness that is about to cover our world. However, this battle does not promise to be easy: she will have to make unexpected alliances, rally friends and face characters we know well.
Interesting Facts
All episodes of Season 4 were released on the last day of 2020. The producers have announced that this is the final chapter in the story of the young witch.
"Chilling Adventures of Sabrina" is one of three TV shows directed by showrunner Roberto Aguirre-Sacas based on Archie Comics. Unfortunately, "Riverdale" is the only one of the three TV series to remain in production as of early 2021. It is noteworthy that the "Katie Keene" TV show was able to stay on the air for only one season. Meanwhile, "Riverdale" Season 5 will premiere on January 20, 2021. Notably, Roberto Aguirre-Sacasa is planning to remake the cult TV series "True Blood" in the near future.
Kiernan Shipka, the lead actress on the TV series, is also busy: she recently starred in Swimming With Sharks, a remake of the 1994 film, that also stars Diane Kruger. The story about the dark underside of Hollywood has received the format of a TV series – however, the date of the Season 1 premiere is still unknown.
About
Chilling Adventures of Sabrina is an American-made TV series based on the Archie Comic Universe in the genre of mystical drama. Season 4 premiered on December 31, 2020 on Netflix streaming platform.
Related Shows
Riverdale
Lucifer
13 Reasons Why
Teen Wolf
Tags: magic, witchcraft, Sabrina, adaptation, witch, mysticism, horror, devil, comics