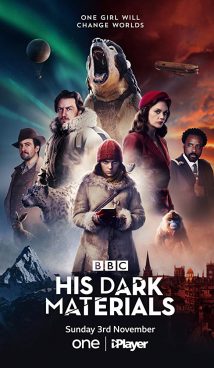 Synopsis
The second season of the TV-series His Dark Materials is ready to give us new mind-blowing adventures. After the tragic finale of the first season, the main character, Lyra Belaqua, finds herself in a parallel world called Cittàgazze that got infiltrated by Spectres. These creatures are deadly to adults but are completely harmless to children. In Cittàgazze, Lyra meets a boy, Will Perry, who has just escaped from our world. This meeting will become fateful not only for the teenagers but for the entire Universe.
Interesting Facts
This is a screen adaptation of Philip Pullman's second novel. Whether the third season will be based on the third book, The Amber Telescope, is still unknown. Meanwhile, last year a new novel, The Secret Commonwealth, saw the light. It belongs to the second trilogy of books about Lyra Belaqua's adventures.
The wonderful British actor Andrew Scott, who is well known as Moriarty from the TV-series Sherlock, portrays Will Perry's father in His Dark Materials. His daemon (a part of the human soul which takes an animalistic form), an eagle named Cyan Köter, is voiced by the amazing actress Phoebe Waller-Bridge. Waller-Bridge and Scott have already met in the second season of the popular TV-series Fleabag.
They began shooting His Dark Materials' second season before the premiere of the first one because the producers were afraid that the actors Daphne Keane (15 years old) and Amir Wilson (16 years old) would grow up too quickly. For this reason, they managed to film the season almost completely before the start of the coronavirus pandemic. However, they could not finish the scenes with James McAvoy, so the season will be split into two parts, and the first part will consist of seven episodes.
His Dark Materials will be shown on BBC One in the UK and on HBO in the US on HBO. The second season kicks off in November 2020.
Information
This is a British-American-made fantasy TV-series based on Philip Pullman's trilogy of the same name.
The premiere of the second season will take place in November 2020 on the channels BBC One and HBO.
More Like This
Game of Thrones
A Discovery of Witches
Tags: screen adaptation, parallel universes, philosophy, adventures, drama