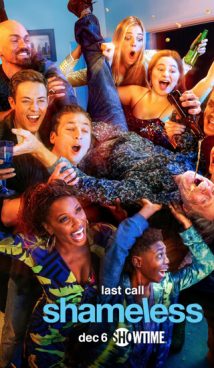 Synopsis
Sadly but all good things come to an end, especially if it comes to the amazing "Shameless". A stunning series about the life of a crazy family from southern Chicago is coming to its logical conclusion. But it's all over, our heroes still need to deal with many problems, get trapped at least a dozen times and miraculously avoid terrible troubles, and say goodbye to the audience as touchingly as possible.
Interesting Facts
The first episode of the final eleventh season of "Shameless" aired on December 6, 2020 on Showtime. Release dates are weekly, and we will see the last episode at the end of February 2021.
The new season was filmed amid the coronavirus pandemic, so both the film crew and the actors complied with all safety rules. This is almost the first series in which the heroes wear masks.
Together with the epidemic point, another key topic of the new season is gentrification. The characters in the series are not particularly happy with the fact that their area gets more fashionable day by day, many hipsters here and there, no criminal gangs walking the streets any more. The patriarch of the family, Frank Gallagher, decides to fight with the mods dominance by his own, using his radical and inventive methods.
All members of the Gallagher family joined their roles, except for Fiona who left the series in the ninth season finale. Viewers are still wondering if Emmy Rossum, the actress who played Fiona from 2011 to 2019, will return for at least one episode. Meanwhile, the premiere of the series "Angeline", where Emmy plays the main role, is due to take place soon.
About
"Shameless" is an American-made television series filmed in the genre of crime tragicomedy. The eleventh season of Shameless premiered on December 6, 2020 on Showtime.
 Related Shows
Shameless (Great Britain)
Dexter
Office
Californication
Tags: tragicomedy, crime, comedy, drama, Chicago, family
Keywords: Shameless, Shameless TV series, Shameless tragicomedy, Shameless 2020, Shameless 2021