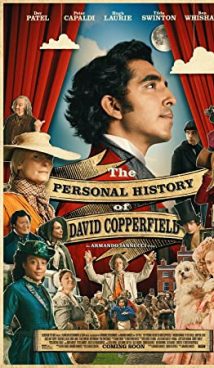 Synopsis
A fresh look at one of the most famous British novels.
We see a firsthand account of the ups and downs of life of David Copperfield (Dev Patel), an English gentleman. We will also see the English life of the 19th century. David tells us about his rude stepfather, the death of his mother, studying at a private school and working at a factory, and also about the trekking passage from London to Dover. This is only a part of all of David's most interesting adventures, comic and tragic, those that helped him grow up, settle down and become a writer.
 Interesting facts
The director and author of the script for the new film adaptation of the classic novel was Armando Iannucci, a master of absurd humor, known from the extremely popular TV comedy Veep. By the way, now HBO channel televised his last project, namely the satirical series Avenue 5 with Hugh Laurie, whom we can also see in The Personal History of David Copperfield.
The film was nominated for eleven British Independent Film Awards and received five of them, including the award for the best screenplay.
This is approximately the fourteenth film adaptation of the classic novel. Previously, three silent films, five series and two cartoons came out.
Information
The British and American film is based on the novel by Charles Dickens and shot in the tragicomedy genre.
The film premiered on September 5, 2019 at the Toronto Film Festival, and was released in wide distribution on January 24, 2020.
 FAQ
Which famous actors will we see in the movie?
First of all, Dev Patel, well known to us from Slumdog Millionaire. The audience's favorites Hugh Laurie and Tilda Swinton also took part in the filming. In addition, we will see Gwendoline Christie, who played the role of Brienne of Tarth in the Game of Thrones.
Related Movies