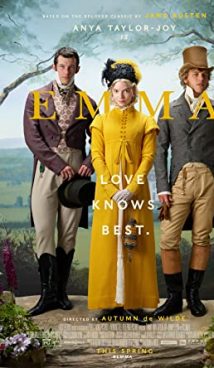 English

6.9

United Kingdom
Synopsis
Emma Woodhouse (Anya Taylor-Joy) is a beautiful, smart and shrewd girl. She lives in the hinterland and stands assured of the fact that she will never get married. Instead of that, she decides to build her neighbors and friends lives. She begins with her friend Harriet (Mia Goth), who rejects farmer Robert Martin's marriage proposal at her direction. However, in the heat of matchmaking Emma finds herself at the center of a love triangle.
Interesting facts
Sure enough, this is not the first film adaptation of the classic novel by Jane Austen, but about the tenth one. Prior to Anya Taylor-Joy, the roles of Emma Woodhouse were played by such stars as Kate Beckinsale and Gwyneth Paltrow. In 2010, the Indian film Aisha saw the light, where the scene of the novel takes us to modern Delhi.
Anya Taylor-Joy is one of the high-potential young actresses in Hollywood. We will see her soon in the long-suffering comic book movie The New Mutants, which will receive a digital release in 2020 after two years of ordeal.
Eleanor Catton, the author of Emma's script, is the youngest Booker Prize winner in history for the novel The Luminaries, which, incidentally, also underwent a film adaptation. The premiere of the similarly-named series with Eva Green was on May 17, 2020.
Information
The British-made film is based on the similarly-named novel by Jane Austen and shot in the melodrama genre.
The film premiered on February 14, 2020 in the United Kingdom.
You can watch the movie trailer online on the website without registering. You can also find interesting facts about the film and find out the release date in Russia.
 Related Movies
Little Women
Pride & Prejudice
Jane Eyre