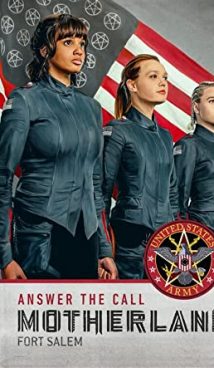 Synopsis
This is very feminine and magical series about the alternative history of America. 300 years ago, the US government stopped the persecution of witches by concluding with them the so-called Salem Agreement.
The times we live in. Matriarchy reigns in the USA. Three young witches come to military service: the self-confident girl Abigail (Ashley Nicole Williams), the excellent pupil Tally (Jessica Sutton) and the boisterous girl Rael (Taylor Hickson). They have to grow up, develop their magical abilities and face Spree terrorist organization, which argues against the military service for women who are able to conjure.
They are trained at Fort Salem under the leadership of General Sarah Alder (Lyne Renee), the witch who signed the Salem Agreement on behalf of the sorceresses.
Interesting facts
Despite the fact that Motherland: Fort Salem talks about the alternative USA, the series itself was shot in British Columbia, Canada.
As a part of the series' promotional campaign, militaristic posters in the propaganda style with the words "Answer the call!" were released.
Information
The American-made TV series shot in the alternative history genre.
The first season premiered on March 18, 2020 on the American Freeform cable channel.
You can watch the series trailer online on the website without registration. You can also find interesting facts about the series.
FAQ
What channel is producing the series?
Motherland: Fort Salem series was commissioned by the Freeform cable channel.
When did the first season come out?
The first episode premiered on March 18, 2020.
Will there be a sequel?
The responsible executives of the channel have not yet announced the continuation of the series.
Related Series
The Plot Against America
Salem
The 100
Tags:
USA, alternative history, witches, magic, army, drama, fantasy