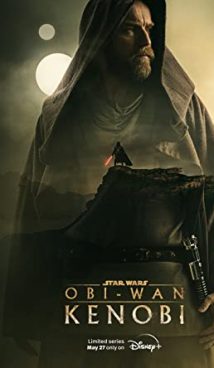 Synopsis
Jedi Master Obi-Wan Kenobi has to save young Leia after she is kidnapped, all the while being pursued by Imperial Inquisitors and his former Padawan, now known as Darth Vader.
Obi-Wan Kenobi – is a fictional character in the Star Wars franchise. Within the original trilogy, Obi-Wan is a Jedi Master as a supporting character and is portrayed by English actor Alec Guinness. In the later-released prequel trilogy, a younger version of the character serves as one of the two main protagonists, alongside Anakin Skywalker, and is portrayed by Scottish actor Ewan McGregor. In the original trilogy he is introduced as Ben Kenobi, an alias he uses while in hiding from the Empire. He is a mentor to Luke Skywalker, to whom he introduces the ways of the Jedi. After sacrificing himself in a duel against Darth Vader, Obi-Wan guides Luke through the Force in his fight against the Galactic Empire. In the prequel trilogy, set two decades earlier, he is initially a Padawan (apprentice) to Jedi Master Qui-Gon Jinn, and later mentor and friend of Luke's father Anakin, who falls to the dark side of the Force and becomes Vader. The character briefly appears in the sequel trilogy as a disembodied voice, speaking to protagonist Rey. He is frequently featured as a main character in various other Star Wars media, including the streaming television miniseries Obi-Wan Kenobi, in which McGregor reprised the role.
Guinness' performance as Obi-Wan in the original Star Wars (1977) earned him a nomination for the Academy Award for Best Supporting Actor, the only acting nomination for a Star Wars film. McGregor's performance as the character in the prequels received praise as well, considered to be among the highlights of the trilogy. Guinness won the Saturn Award for Best Supporting Actor for his performance in A New Hope, while McGregor was nominated for the same category 20 years later for his performance in The Phantom Menace.
The character is loosely inspired by General Makabe Rokurōta, a character from Akira Kurosawa's film The Hidden Fortress, played by Toshiro Mifune (whom franchise creator George Lucas had originally wanted to cast as Obi-Wan). In an early draft of the original Star Wars film, Obi-Wan's first meeting with Luke Skywalker is lifted directly from The Hobbit, acknowledging Gandalf as a source of inspiration. Lucas originally planned for Obi-Wan to live through the original film, but found that the character had nothing to do during the culminating battle sequence. Lucas later reflected that he felt that "It would be much more powerful, satisfying and interesting if Darth Vader were to kill him and he were to go on to a different form."