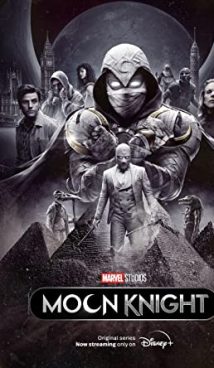 Synopsis
Moon Knight is an American television miniseries created by Jeremy Slater for the streaming service Disney+, based on the Marvel Comics featuring the character of the same name. It is the sixth television series in the Marvel Cinematic Universe (MCU) to be produced by Marvel Studios, sharing continuity with the films of the franchise.
Moon Knight premiered on March 30, 2022, and ran for six episodes, concluding on May 4. It is part of Phase Four of the MCU. The series received positive reviews, with particular praise for the performances (particularly Isaac, Calamawy and Hawke), the darker tone compared to previous MCU series, and its portrayal of DID.
The series follows Steven Grant, a mild- mannered gift-shop employee, who becomes plagued with blackouts and memories of another life. Steven discovers he has dissociative identity disorder and shares a body with mercenary Marc Spector. As Steven/Marc's enemies converge upon them, they must navigate their complex identities while thrust into a deadly mystery among the powerful gods of Egypt.