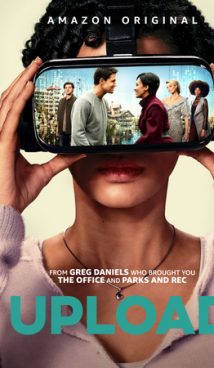 Synopsis
In the not too distant future (2033), people have finally found a way to upload and download human consciousness. This will also happen to Nathan Brown (Robbie Amell) who was in a car accident. Ingrid (Allegra Rose Edwards), the protagonist's bride, uploads his mind to the cloud, and Nathan wakes up in a luxurious digital paradise. Now, he is in the "Lake View" digital hotel where he has to spend eternity while the Ingrid wealthy family pays for this. Thanks to the support of Nora (Andy Hello), a customer service employee, Nathan is able to reinvent himself.
Being a good-natured and tube TV series, "Upload" makes you think about the facets of humanity and kindness. In addition, this comedy show is full of jokes regarding the new digital realities of our daily life.
Interesting Facts
Robbie Amell is the cousin of Stephen Amell, the star of the The Arrow television series. This TV show is a part of the DC Television Universe, which featured Robbie. He is best known for Firestorm, a character from The Flash. Both cousins are originally from Canada, and Robbie ​​received US citizenship just this year.
Greg Daniels, the "Upload" showrunner, is best known for his work on the "The Office" television series. 4 weeks after "Upload" premiered, Netflix launched "Space Force," another comedy serial by Greg Daniels.
About
"Upload" is an American comedy television series. The first season was premiered on May 1, 2020 on the Amazon Prime platform.
F. A. Q.
Q: Which channel is this show on?
A: The "Upload" was filmed exclusively for the Amazon streaming service.
Q: Will the series be renewed?
A: Immediately after the premiere, the "Upload" was renewed for a second season, which is scheduled to premiere in 2021.
Related Shows
Space Force
Mythic Quest: Raven's Banquet
Modern Love
Orville