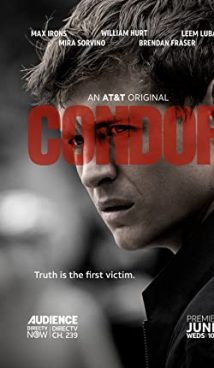 TV-MA
01 hours 00 minutes
Synopsis
A programmer Joe's entire office, whose company works for the CIA, is mopped up. The guy himself miraculously escapes death and is now on the run. Joe has to hide because he no longer knows who he can trust. Will a young idealist be able to resist those who are used to dispose of others' lives so easily?
Interesting Facts
The first season of the series was filmed for the American TV-channel Audience. Critics and viewers liked Condor, and it was eventually extended for one more season, which was filmed by the beginning of 2020. However, in January, Audience announced that it would no longer work in the old format, and the second season of Condor was shown on the Scandinavian channel C More and the Irish RTÉ2. What will happen to the series next is still unknown.
The role of Joe Turner is played by Max Irons, son of the famous actor Jeremy Irons.
The series is a multi-part adaptation of the novel Six Days of the Condor by James Grady and also of its screen adaptation, the classic spy thriller Three Days of the Condor. The movie and the book on which it was filmed are quite different from each other, but they have the same plot outline. By the way, there are four novels in the series about an agent codenamed Condor, the last of which came out in 2015.
The title of each episode is associated with the sayings of famous people.
Information
This is an American-made spy thriller TV-series based on the James Grady's novel and the Three Days of the Condor movie.
The premiere of the second season took place on June 9, 2020.
More Like This
The Capture
Berlin Station
Jack Ryan
Tags: CIA, terrorism, intelligence agency, conspiracy, drama, spy