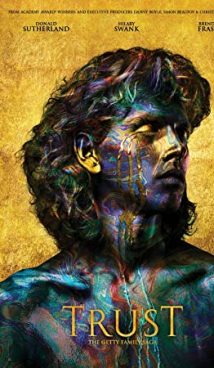 TV-MA
01 hours 00 minutes
Synopsis
The TV series "Trust" tells us about the eccentric multi-billionaire Jean Paul Getty, an oil business tycoon, who in the middle of the twentieth century was known as the richest private person on the globe. Besides, he is said to be an extremely stingy old man. And when in 1973 his grandson (named after him) is kidnapped in Rome by the Italian mafia, the billionaire ignores ransom demands of the criminals who want 'mere' seventeen million dollars from him. Mr. Getty is unyielding: he has thirteen other grandchildren. In addition, he suspects that his heir John Paul Getty III himself organized his own kidnapping in order to shake money from his grandfather. Anyway, while ransom disputes are raging in the family mansion, the young man's mother goes to Rome with a strict intention to solve the problem on the spot.
Trivia
Filming of the series "Trust" was commissioned by the American channel "FX" where this multi-part thriller was presented to viewers on March 25, 2018.
A few months before the "Trust" premiere, Ridley Scott's crime thriller film "All the Money in the World" came out on the screens. Curiously, that it depicts the same events concerning the actual 1973 kidnapping of John Paul Getty III in Italy and the refusal of his grandfather, the multi-billionaire oil tycoon J. Paul Getty. Initially, the role of Getty in the film was portrayed by Kevin Spacey, but due to the actor's sexual harassment scandal all scenes with this character were rapidly re-shot, and Christopher Plummer became the new billionaire (in a movie, at least).
The role of Getty Jr. in the series was played by a young actor Harris Dickinson, for whom "Trust" became a real career springboard. After that, the young actor played the prince-role in the last "Maleficent" dark fantasy film, and in 2021 the large-scale blockbuster "The King's Man" is already being released where Harris Dickinson has got the main role as well.
About
The American-British co-production television series based on true events and filmed in the crime drama genre. The premiere of the first season of the series "Trust" took place on March 25, 2018 on the "FX" TV channel.
Related TV Series
Escape at Dannemora
Suburra
Patrick Melrose
American Crime Story
Vinyl
Tags: drama, crime, based on true events, true story, kidnapping, ransom, Italy, Rome, 1970s, Hilary Swank, Donald Sutherland