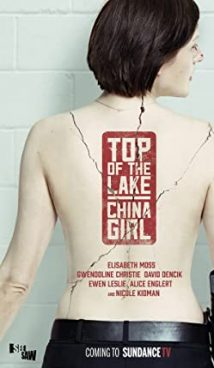 TV-MA
01 hours 00 minutes
English, Thai, German

7.5
Synopsis
A detective Robin Griffin, who works in Australia, comes briefly to her native New Zealand. There, in the town of Laketop, lives Robin's mother. But the detective's home leave turns into another investigation: Robin joins the search for a recently missing girl named Tui. The girl is only twelve years old and before she disappeared she had been discovered to be pregnant. Robin uses her detective skills to find any evidence but the truth that the brave woman is going to face would stun even an experienced police officer.
In the second season of "Top of the Lake" TV series Robin Griffin returns to Sydney for a fresh start, however, there's another shocking murder strum the wounds of the past. The ocean carries to the coast a suitcase with a dead Asian girl inside, and it is Robin who has to conduct this investigation. In parallel, the heroine of the series solves her own problems she has kept well-hidden in her past. She realizes that finding the murderer is inherent with finding herself.
Trivia
"Top of the Lake" detective series was presented to the public at the Sundance Film Festival on January 20, 2013. By the way, this was the first time when a mini-series was included in the Sundance program. TV viewers were able to see "Top of the Lake" only on March 18, 2013.
Despite the fact that "Top of the Lake" was conceived as a mini-series, its success forced the authors to change plans and shoot the second season of the crime drama. Its premiere took place with interval of four years.
The showrunner of "Top of the Lake" was Jane Campion, a New Zealand screenwriter and producer who directed the Oscar-winning drama "The Piano" in 1993.
About
A co-production television series filmed in the genre of crime drama.
The premiere of the first season of "Top of the Lake" TV series was premiered on January 20, 2013 at the Sundance Film Festival.
Related TV Series
Broadchurch
The Fall
Sharp Objects
The Luminaries
Tags: drama, mystery, crime, heroine, Elisabeth Moss, New Zealand, investigation, missing person