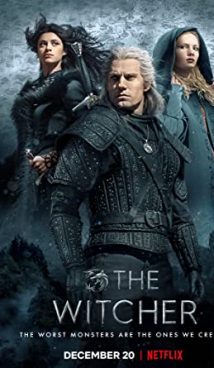 TV-MA
01 hours 00 minutes
Synopsis
Geralt of Rivia (Henry Cavill) is a member of the mysterious Order of the Witchers. For many years, he's been hunting monster when he finally finds himself in a centre of a whirl of activity which affects all the countries and people of the magic world. He will not only continue fighting against monsters, but also try to find and save Princess Cirilla, help a dragon, defeat the Kikimora, and meet his love, Yennefer the Sorceress.
Interesting facts
Showrunner Lauren Hissrich said that the first season is just the beginning of an even bigger story.
Despite mixed reviews, 'The Witcher' became one of the most popular series of the year. According to Netflix, in the first month, the series over 76 millions people watched it.
A second season of the series will be released month after the release of the first one.
The song 'Toss a Coin to your Witcher' became viral on the Internet. It was written by a Russian songwriter Sonia Belousova.
A full-length film titled 'The Witcher: The Wolf's Nightmare' will be released in 2020.
Information
An American-Polish fantasy television series based on the novels by Andrzej Sapkowski.
'The Witcher' was premiered on December 20, 2019.
You can watch the series trailer online on our website without registering. You can also find interesting facts about the series and its release date.
FAQ
What streaming platform releases the series?
Netflix
When was the 1st season was released?
Amazon released the whole series on 20.12.2019.
Will there ever be a second season?
The second season was confirmed even before the release of the first one. But because of the coronavirus pandemic, it will be released no sooner than year 2021.
Where was the series filmed?
Most of the filming was done in Central Europe – Hungary, Poland and Slovakia – and many scenes were filmed in Canary Islands.