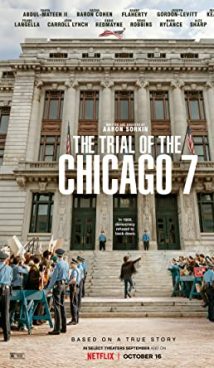 Synopsis
Netflix streaming platform begins its campaign for the Oscar. Based on a true story, The Trial of the Chicago 7 delivers everything academics need: a poignant social context, a brilliant cast and Aaron Sorkin as a director.
The film tells us about the court hearings against the organizers of the youth unrest in August 1968. These days, the Congress of the US Democratic Party was held in Chicago and protesters were in favor of ending the Vietnam War and legalizing marijuana. Peaceful protests turned into riots, in which the police accused eight men. One of them was immediately sentenced to four years in prison for contempt of court, and the trial against the remaining seven attracted the attention of the entire American people.
Did You Know?
The release of The Trial of the Chicago 7 will take place on October 16, 2020 via Netflix streaming service.
The Trial of the Chicago 7 has a very difficult journey to the audience. Steven Spielberg originally came up with the idea to make a film about the events in Chicago in the late sixties back in 2007. The great director wanted to make a film, and Aaron Sorkin had to write the script. Sasha Baron Cohen was considered from the very beginning for one of the main roles, and the producers wanted to invite Will Smith and Heath Ledger. However, the strike of the Writers Guild of America ruined all plans, and Spielberg left the project. After that, the idea of the film was tried many times to revive, and even Ben Stiller was considered among the candidates for the director's chair. The project magically resurrected in 2018, and scriptwriter Aaron Sorkin became the director. Despite financial problems, the film was eventually filmed and the premiere was set for 2020. However, due to the coronavirus pandemic, Paramount decided not to release the movie in theaters and sold it to Netflix.
Information
A co-production movie based on a true story and filmed in the drama genre. The world premiere of The Trial of the Chicago 7 will take place on October 16, 2020 via Netflix streaming service.
More Like This
When They See Us
The Irishman
Richard Jewell
Tags: Drama, Based On A True Story, USA, 1960s, History, Eddie Redmayne, Sasha Baron Cohen, Joseph Gordon-Levitt