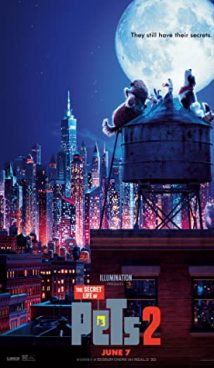 Synopsis
In the sequel to The Secret Life of Pets, we return to our friends – cats and dogs, who, in the absence of their owners, are engaged in very exciting affairs. Here is a furry Daisy helping the uncompromising rabbit Snowball rescue a little tiger from the circus. Funny Spitz Gidget wants to disguise himself as a cat in order to get into the apartment of his neighbors. The main character, Jack Russell Terrier Max, goes crazy because his owners have a child. Max needs urgent help from friends!
Did You Know?
The Secret Life of Pets 2 was released to the public on May 24, 2019. The release of the cartoon in streaming services and on DVD took place on September 4, 2019.
The main villain of the cartoon, a circus owner named Sergei, was turned into a Frenchman Serge from France by Russian localizers.
A Shepherd Dog named Cowboy is voiced by Harrison Ford, and this is the first time in more than half a century of acting career, when he took part in the creation of a cartoon.
The Secret Life of Pets 2 director Chris Renaud specializes in cartoons. He shot not only the first animated film about pets, but also the cartoons Despicable Me and Despicable Me 2. He is now working on new Minions.
Information
A co-production cartoon shot in the genre of an adventure comedy. The world premiere of The Secret Life of Pets 2 took place on May 24, 2019.
More Like This
Ralph Breaks the Internet
The Boss Baby
The Angry Birds Movie 2
The Secret Life of Pets
Tags: Animation, Comedy, Pets, Cats, Dogs, Parrots