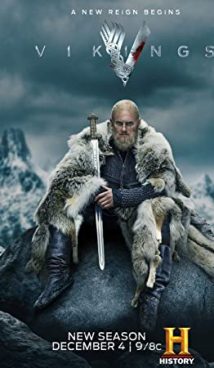 French, Arabic, Greek, Ancient (to 1453), English, Old English, Norse, Old, Latin

8.5
Synopsis
Ragnar, the legendary king of whom there are references in the Scandinavian sagas – however, there is no evidence that he really existed – is in the spotlight in new episodes. Ragnar, the ruler of the Kattegat with many children (a settlement on the shores of the strait of the same name between present-day Sweden and Denmark), raids the Saxons and Britons.
Lagertha (Catherine Winnick), ex-wife of King Ragnar Lothbrok (who left the "Vikings" in season 4) and his son Bjorn Ironside (Alexander Ludwig) are the main characters in the new episodes. There is also Ivar (Alex Hyog Andersen), the second son of Ragnar, who escapes from Kattegat and through the Silk Road ends up in Kievan Rus.
Interesting Facts
The role of the Prophetic Oleg was played by Danila Kozlovsky, one of the leading Russian actors.
The series has scenes in which the actors speak Old Norwegian, Old English, Latin, Arabic, Ancient Greek and Old Russian.
Not all of the cast members from the previous season are on the cast for the new season. Floki (Gustaf Skarsgard) and Warrior Bishop Hemund (Jonathan Rhys-Meyers) will no longer be on TV this season.
About
The "Vikings" is a Canadian-Irish-produced historical drama television series. The sixth season premiered on December 4, 2019 on History Channel.
You can watch the trailer for the series on our website, no registration is required. You can also read interesting facts about the series and find out the date of the new season premiere.
F.A.Q.
Q: What channel is the show on?
A: The series was filmed for History Channel.
Q: When will the sixth season of the TV series be premiered?
A: The series is available for viewing from December 5, 2019.
Q: Will the series be renewed?
A: The further fate of the Viking TV series is still unknown.
Related Shows
Game of Thrones
Last Kingdom
Marco Polo
Rome
Tags: vikings, battles, adventure, drama, raids, navy, murders, pseudo-history