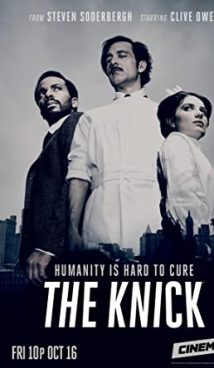 English, Latvian, Mandarin, Cantonese, Hebrew, Greek, Italian, Polish, Spanish

8.5
Synopsis
The TV series takes place at Knickerbocker Hospital (The Knick) in New York in 1900, at the turn of the 19th and 20th centuries. Although it seems to medical practitioners that their knowledge of the human body is incredibly vast, they still continue to develop medical science. However, doctors face many obstacles in their path – opium addiction, racial prejudice and other problems.
Interesting Facts
The pilot episode of the TV show was released on August 8, 2014 on Cinemax. The critically acclaimed, TV series was renewed for a second season, which premiered a year later. Then the fate of the multi-part medical drama hung in the air, until in 2017 Cinemax announced the closure of the TV series. In 2020, Cinemax announced that it will continue developing the TV show – however, the date of the premiere of Season 3 is still unknown.
Steven Soderbergh himself is the director of the first two seasons of the TV show. After the closure of "The Knick" he continued working on television projects with the interactive TV show "Mosaic" starring Sharon Stone. Accepting only a producer role, Soderbergh has no plans to direct "The Knick" for a third season.
Clive Owen, a wonderful British actor, is a co-star on the TV show. Interestingly, Owen will soon return to television screens in the third season of "American Crime Story", dedicated to the Monica Lewinsky scandal. Clive Owen will play the role of Bill Clinton.
Notably, Knickerbocker Hospital actually existed in New York, and some of the characters in the series are copied from real-life doctors.
About
The Knick is an American-made medical drama television series. The first season of the TV show was premiered on 8 August 2014 on the Cinemax TV channel.
Related Shows
House, M.D.
Nurse Jackie
Mosaic
Mad Men
Boardwalk Empire
Tags: history, New York, medicine, drama, doctors, Stephen Soderbergh, Clive Owen