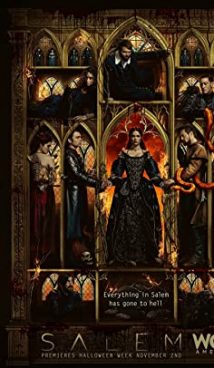 TV-MA
01 hours 00 minutes
Synopsis
The TV series takes place about 300 years ago in Massachusetts Bay, located in New England. Here is the town of Salem ruled by the Puritans. According to the city administration, Salem is flooded with witches who made a deal with the Devil himself. According to the Puritans, it is these women who are guilty of childhood illnesses, crop failure and all other life difficulties that people who lived in the 17th century faced.
So, the real witch-hunt started in Salem. The TV series creators invite viewers to observe these events and draw their own conclusions regarding the guilt of these women, prejudices and the existence of the supernatural.
Interesting Facts
Commissioned by WGN America, the Salem TV series began airing on April 20, 2014. Renewed twice, the TV show was canceled on January 25, 2017 after the final episode released under the "Black Sunday" title.
The Salem witch trials are a completely true story. Beginning in 1692, the persecution caused the deaths of about two dozen men and women. It is noteworthy that most of the characters of the TV series are real people who lived in Salem at the end of the 17th century.
In Salem, a city that still exists today, you can see a memorial to the victims of the witch hunt and the house in which these trials took place.
"Cupid Carries a Gun", a composition by rock band Marilyn Manson, sounds in the opening credits. It is noteworthy that the vocalist of the rock band appears as Thomas Dinley in the third season of the TV show.
About
Salem is an American-made mystical thriller TV series. The first season of the TV show premiered on April 20, 2014 on WGN America.
Related Shows
Sleepy Hollow
Penny Dreadful
Witches of East End
True Blood
Tags: drama, history, mystic, supernatural, adventure, horror, witches, inquisition