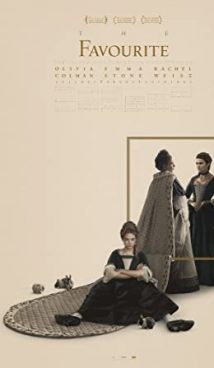 Synopsis
The Favourite shows audiences an 18th century UK. Anna Stewart, the first queen of the newly reunited Great Britain, has little desire to rule the state. Although the country is at war with France over the Spanish inheritance, Anna is more into playing with rabbits. Sometimes falling into hysterics, she prefers to spend time with her favourite Sarah Churchill, Duchess of Marlborough. The Duchess has excellent control over the queen, effectively ruling the country on her own. One day, Mrs. Churchill is visited by Abigail Hill, her cousin, who asks for help in finding job. Having no idea what mistake she made, Churchill arranges for Abigail to be a cleaning lady at court. After a while, Hill manages to become Anna's new favourite. So, the war between cousins ​​is just beginning…
Interesting Facts
"The Favorite" was presented to the public at the Venice International Film Festival on August 30, 2018. Well received by critics, this film won a Grand Jury Award for director Yorgos Lanthimos. The movie was then shown at many other European and American film festivals, receiving dozens of awards. The world premiere of the film took place on December 21, 2018. The digital release of "The Favorite" took place in spring 2019.
Although all three performers were nominated for an Oscar, only Olivia Colman received the coveted statuette. This was Colman's first Academy Award nomination in her career. Overall, The Favorite received 10 nominations.
Yorgos Lantimos, a native of Athens, is the director of the film. Having started his career by filming music videos and working at the opening and closing ceremonies of the 2004 Olympic Games in Athens, Lanthimos directed several festival films in the 2000s, which attracted close attention around the world. Staying true to his style, Lanthimos is now an important figure in modern world cinema and makes films with some of the brightest Hollywood stars.
About
The Favorite is a tragicomedy co-production film with a world premiere on 30 August 2018 at the Venice Film Festival.
Related Films
The Lobster
The Killing of a Sacred Deer
Dogtooth
Alpeis
Tags: pseudohistory, England, queen, XVIII century, struggle for influence, Olivia Colman, Rachel Weisz, Emma Stone, tragicomedy