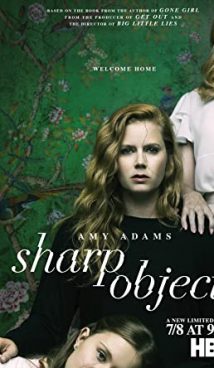 TV-MA
07 hours 01 minutes
Synopsis
In Wind Gap, a small town located in Missouri, a girl named Ann disappeared without a trace. Frank Curry, editor of the St. Louis Chronicle, decided to send his employee Camille Pricker to the Wind Gap to write a series of articles about the provincial life and the investigation of the missing girl.
The fact that Wind Gap is Camille's hometown is another reason why she was chosen. Since childhood and adolescence were very traumatic for Camille, Frank hopes that returning to her hometown will shake up the reporter and bring her out of the crisis.
However, what Camille will face will be even more traumatic, as a return to the past will threaten her life.
Interesting Facts
The first screening of "Sharp Objects" took place on June 7, 2018 at the ATX series festival. The broadcast of the psychological thriller series began on July 8, 2018 on HBO.
Jean-Marc Vallee, a Canadian director known for his "Big Little Lies", is the director of the TV show.
The series is based on the book of the same name by American writer Gillian Flynn. It is noteworthy that Flynn wrote 3 novels, each of which has already been filmed – in addition to "Sharp Objects", "Gone Girl" and "Dark Secrets" films were also released.
"Sharp Objects" revealed to the world the Australian actress Eliza Scanlen, whose acting talent sometimes overshadowed the masters Amy Adams and Patricia Clarkson. Following "Sharp Objects", Eliza co-starred in the new adaptation of "Little Women". Thriller "Old" M. Night Shyamalan which will premiere in the summer of 2021 is the next project with the participation of Eliza Scanlen.
About
Sharp Objects is an American-made TV series based on the psychological thriller novel of the same name by Gillian Flynn. The first season of the TV show premiered on June 7, 2018 at the ATX Series Festival in Austin, Texas.
Related Shows
Big Little Lies
Unbelievable
The Handmaid's Tale
Unreal
Little Fires Everywhere
The Undoing
Tags: detective, drama, crime, thriller, homecoming, small town, journalist, Amy Adams