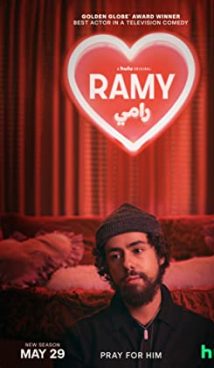 Synopsis
A guy named Ramy lives in New Jersey. His parents are the migrants from Egypt and devout Muslims. From his birth, Ramy was brought up according to the precepts of Islam, and he isn't going to renounce the religion of his ancestors, in no case. But at the same time, Ramy is a typical 'millennial' whose youth falls on very frivolous times amidst liberal environment.
The title character doesn't have to choose between Islam and the modern living in New Jersey. The young man is simply trying to reconcile in himself two such seemingly opposite things – the life path of a devout Muslim and a world where no one seems to believe in anything.
In attempts to combine secular and religious life sides, Ramy sometimes finds himself in very funny situations, but the most important thing is that he's not afraid to be funny, because only sound sense of humor can soften the edges, makes his life easier and helps him to cope with stereotypes that stand in his way.
Trivia
"Ramy" TV series was filmed on request of the American 'Hulu' channel. The very first season of the serial started on April 19, 2019. Shortly after the release of the series, the channel extended it for the second season, which was released in a year. After that, the TV show received another sequel, the release date of which is still unknown.
The author of "Ramy" TV series is a stand-up comedian Ramy Youssef, and the storyline of the TV show has many autobiographical notes. By the way, Youssef has already received one 'Golden Globe' Award for the lead male role in the comedy series.
The controversial actress Lindsay Lohan, who converted to Islam in 2017, also wanted to take part in the TV series. Rami Youssef even made up a role for Lohan, but before filming process started the actress had simply vanished without a trace or a note.
About
American-made television series, filmed in the genre of tragicomedy.
The first season of the series "Rami" TV series premiered on 'Hulu' channel on April 19, 2019
Related TV Series
Dave
I May Destroy You
Shrill
Insecure
Atlanta
Woke
Tags: comedy, drama, cultural relations, Islam, Egyptian, New Jersey, stand-up comedian