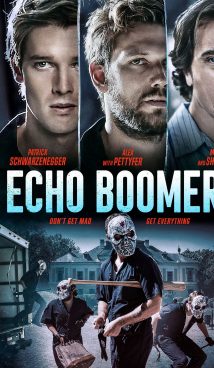 Synopsis
Confused in life and disillusioned with the structure of the modern world, former student Lance (Patrick Schwarzenegger) falls into a gang of ideological robbers. Infiltrating the homes of wealthy Chicagoans, young thieves not only take out valuable things, but also leave messages to those who – according to the youngsters – live too luxuriously. The magnificent manipulator Mel played by Michael Shannon, a wonderful actor, is the leader of the gang of ideological robbers.
Interesting Facts
The Echo Boomers movie will be released on November 13, 2020 in the US. The film will premiere simultaneously in multiple cinemas and on streaming platforms.
Echo Boomers is Seth Savoy's feature-length directorial debut. It is noteworthy that he is both the director and the author of the script.
Patrick Schwarzenegger, son of a famous bodybuilder, actor and former governor of California, played the role of a desperate student. On the maternal side, Patrick is the great-nephew of John F. Kennedy, the 35th President of the United States. At the age of 27, Patrick still has not appeared in major film projects. Arnold Schwarzenegger, the father of the young actor, is still not only starred in box-office films, but is also thinking of returning to big politics.
Still unacquainted with an Academy Award, Michael Shannon, who starred in the film, has already had two Oscar nominations. He is currently filming "Nine Perfect Strangers" TV series, an adaptation of Liana Moriarty's detective novel. This TV series starring Nicole Kidman, Melissa McCarthy and Luke Evans is filmed in Australia.
About
Echo Boomers is an American crime drama film based on a true story. The world premiere of the movie will take place on November 13, 2020.
Related Films
Tags: thriller, drama, social injustice, Michael Shannon, based on a true story