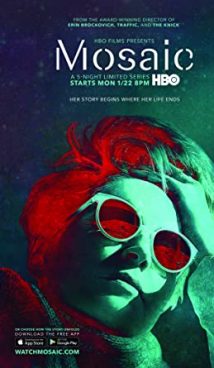 Synopsis
The plot of "Mosaic" TV series revolves around the author and illustrator of the children's books Olivia Lake. The lady is pretty, rich, but there some forces that wish Olivia evil.
The format of the storyline of "Mosaic" TV show fully corresponds to its title. This is a real mosaic of events mixed with memories of different characters. And from the very beginning one cannot figure out what is actually happening. But then odd fragments come together, the nebula slowly dissipates and both exciting and confusing picture gets revealed: with a passionate romance, a terrible murder, and a detective investigation.
Trivia
"Mosaic" TV series was created as a revolutionary project. First, on November 8, 2017. First, on 'App Store' one could go to a special application and watch with the video of "Mosaics". Every user could choose the option from which character's point of view he or she would like to observe the plot. Everything looked almost like a virtual quest. Then, 'Android' platform moved up with a similar application, then, a version for browsers. Only on January 22, 2018 "Mosaic" series was presented on American 'HBO' channel.
The creator of "Mosaic" TV series is a legendary and acclaimed Steven Soderbergh, an early pioneer of modern independent cinema. According to some reports, he also worked on several similar virtual series, but only "Mosaic" reached the viewer.
Before "Mosaic" series Soderbergh directed "The Knick" TV series and he grabbed a few actors with him to the new project: Jeremy Bobb, Frederick Weller and Jennifer Ferrin.
In the role of the writer Olivia Lake stars the magnificent Sharon Stone. In 2020, the actress returned to the projects, starring Lenore Osgood in the "Ratched" TV series.
About
American-made television series, filmed in the genre of crime drama.
The first season of "Mosaic" TV series premiered on 'HBO' on January 22, 2018.
Related TV Series
The Knick
Sharp Objects
The Third Day
Perry Mason
Tags: drama, detective, thriller, crime, investigation, Sharon Stone