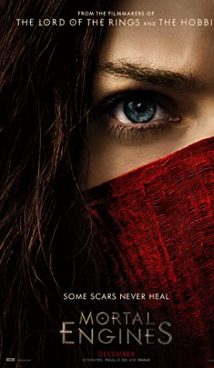 PG-13
02 hours 08 minutes
Synopsis
Mortal Engines film shows the future of the Earth at the end of a short war that lasted only an hour. The vastness of Europe, which used to be large cities, are now plowed by giant moving mechanisms. Predatory self-propelled guns move across the scorched earth, engulfing weaker cities. When strong London "eats" small Salzachen, a mining town, young historian Tom meets the fighting Esther, and together they set off on a journey across a very dangerous post-apocalyptic Europe.
Interesting Facts
Mortal Engines film premiered on December 5, 2018. The digital release of the film took place on January 31, 2019.
Christian Rivers, a protege of the great Peter Jackson, is the director of "Mortal Engines". It is noteworthy that Peter Jackson himself limited himself to the role of the film's producer. In addition, Jackson also worked on the script with his wife, Fran Walsh. Having previously worked on special effects for Jackson's projects, Rivers now has a feature-length directorial debut. The Christian's new project will be a film showing the story of the 370 of Malaysia Airlines, disappeared flight.
As for Peter Jackson, he is not keen to return to work on new blockbusters. Having released "They Shall Not Grow Old" (2018), he is now preparing another biopic about the legendary Beatles for release. "The Adventures of Tintin: Prisoners of the Sun" will be Jackson's new project – however, no one can even give an approximate date for the premiere of this film.
Philip Reeve's self-driving cities book series includes four main novels, several short stories and three more prequels. Producers originally set their sights on a whole series of films based on these books. However, the unsuccessful "Mortal Engines" questioned the future of the film franchise.
About
Mortal Engines is an American-New Zealand co-production film based on the science fiction novel series of the same name by Philip Reeve. The world premiere of the film took place on December 5, 2018.
Related Films
Ready Player One
The Hunger Games
The Hunger Games: Catching Fire
The Maze Runner
Tags: future, post-apocalypse, war, survival, Europe, steampunk