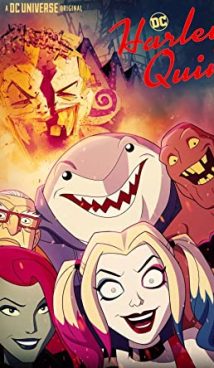 Synopsis
Continuation of the adventures of a very popular comic book villain.
Harley Quinn, alias Dr. Harleen Quinzel (Kaley Cuoco), is the former lover of Joker and betrayed by him in the most cruel way. In the end of the first season, she was able to take revenge on her ex and is now imposing anarchy in Gotham. There will be many adventures, superheroes and supervillains up ahead.
Besides, Batman disappears, and Robin and Batgirl take his place on guard of law and order.
Interesting facts
This animated series was conceived in the wake of the success of the film Suicide Squad and the character of Harley Quinn. Initially, the main character was to be voiced by Margot Robbie.
As a result, in the animated series, Harley Quinn was voiced by Kaley Cuoco, familiar to us for the role of Penny from the extremely popular TV series The Big Bang Theory. By the way, in real life, Kaley met with Henry Cavill, known throughout the world for the role of Superman from the DC Universe comic book, whereto Harley Quinn belongs.
By the way, Kaley's sister also appears in this animated series. She provided a voice of the Batgirl.
Actor Alan Tudyk voiced several villains in Harley Quinn. This is the Joker, the Clayface, and the Calendar Man.
Harley Quinn is a character who originally appeared in Batman animated series (1992) and only then appeared in comics. In one of the canceled blockbusters, her role was rumored to be played by singer Madonna.
 Information
The animated series of American production is based on the comics.
The second season premiered on April 3, 2020 on the DC Universe platform.
You can watch the series trailer online on the website without registration.
 FAQ
What channel is producing the series?
The animated series is released on the DC Universe streaming platform.
When did the second season come out?
The first episode of the second season premiered on April 3, 2020.
The producers did not report the continuation of the series.
Tags: animated series, animation, comics, superheroes, supervillains