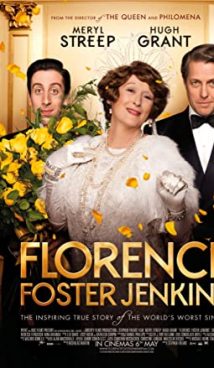 PG-13
01 hours 51 minutes
English, German, Italian, Russian

6.8
Synopsis
What if you dream of performing on the opera stage, but your abilities in this are limited? That is right, keep singing!
Florence Foster Jenkins (Meryl Streep) does just that, although she cannot sing. However, Florence has a decent fortune. She starts taking vocal lessons, continues with performances in a small hall, but her soul requires her own concert at the Carnegie Hall!
Interesting Facts
Florence Foster Jenkins was seen first by visitors to the film festival in Northern Ireland Belfast on April 23, 2016, and then it was released worldwide.
Actress Meryl Streep got her 20th Oscar nomination for her role as Florence Foster Jenkins but lost to Emma Stone.
Florence Foster Jenkins is a real person. Even though she could not sing, she performed at various venues and made it to the Carnegie Hall, but passed away a month after this landmark concert. By the way, she created stage images for herself, and one of the most eccentric was Angel of Inspiration with wings.
The Actors' Justice Association named a special award after Florence's assistant, Clair Bayfield (played by Hugh Grant in the film). It is awarded for an underestimated role in a play based on Shakespeare's works.
Florence Foster Jenkins suffers from the Dunning-Kruger effect when a person exaggerates their humble abilities. Interestingly, the researchers of this phenomenon, David Dunning and Justin Krueger, received a parody Ig Nobel Prize in psychology for their work in 2000.
Information
This is a British-French musical tragicomedy film based on real-life events.
The world premiere of Florence Foster Jenkins took place on April 23, 2016, at the Belfast Film Festival.
More Like This
It's complicated
Ricki and The Flesh
Hope Springs
Tags: music, opera, based on real-life events, Meryl Streep, Hugh Grant