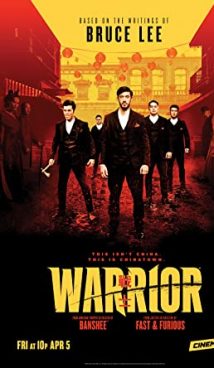 TV-MA
01 hours 00 minutes
Cantonese, Mandarin, English

8.2
Synopsis
Late 19th century, multicultural city of San Francisco. Young Ah Sahm comes here from China in search of his sister Xiaojing. It would seem that the mission is simple: find the girl and bring her home. But a good English-speaking and martial artist, Ah Sahm finds his place in beautiful and brutal San Francisco. Our hero decides to stay in America.
Did You Know?
The first episode of the Warrior second season was released on October 2, 2020 on Cinemax channel. The season includes ten episodes, which will air weekly through December.
The Warrior was co-produced by director Justin Lin, who has already directed four films from the endless Fast and Furious franchise.
The idea for the series about the adventures of a martial artist in the United States belongs to Bruce Lee. The master came up with a TV show in 1971. But the shooting of the series, based on Bruce Lee's idea, began fifty years later. Bruce's daughter Shannon is also on the production team for the TV series Warrior. She is an executive producer.
Despite the fact that the action of the series Warrior takes place in San Francisco, the series is filmed in South Africa (Cape Town).
The leading actor, Andrew Koji, has nothing to do with China: his mother was born in England, and his father is a Japanese citizen. Andrew was born in Surrey, UK. It's funny that for filming in the Warrior TV series, he had to memorize his lines – the actor does not know Chinese.
A few years ago, streaming giant Amazon Prime announced a TV series about the Tong Wars in San Francisco in the late 19th century. Well-known Hong Kong director Wong Kar-wai is to take part in the creation of the new TV show. But so far nothing new has been heard about this project.
Information
American-made TV series based on Bruce Lee's drafts. US premiere of Warrior (season 2) will take place on October 2, 2020 on Cinemax channel.
More Like This
Banshee
Gangs of London
Wu Assassins
Into the Badlands
Tags: Action Movie, Martial Arts, Bruce Lee