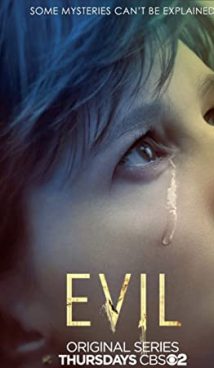 Synopsis
Kristen Bouchard, forensic psychologist and sceptic to the core, is destined to partner with seminarian David Acosta in assessing what Christian priests call "miracles." While David checks such events for the need for exorcism, Kristen looks at these events from a psychological point of view.
Over time, Dr. Bouchard's skepticism and faith in science is tested many times – especially when she witnesses unexplained phenomena. In addition, in her nightmare dreams, Kristen has to face a some-who George, a terrible incubus, in whose reality the psychologist will have to believe.
Interesting Facts
Robert and Michelle King, a married couple, are showrunners for this project. the court TV show "The Good Wife" and "The Good Fight" spin-off, as well as "BrainDead", the serial parody about the aliens who seized control of the US Congress are other famous works of the couple of producers.
Episodes of the first season aired weekly from September 26, 2019 to January 30, 2020 on the American channel "CBS". Popular with TV viewers, "Evil" was renewed for a second season. The premiere of the second season will take place approximately this winter.
Mike Coulter, an actor known as the armor-piercing strongman Luke Cage from the television series of the same name closed in 2018, played one of the main roles in the "Evil" – David Acosta, the future priest. It is noteworthy that Coulter has previously starred in other projects produced by the King spouses. He could be remembered for his role as Lemond Bishop, the drug addict from "The Good Wife" and "The Good Fight" TV shows.
About
Evil is an American-made science fiction drama television series. The first season premiered on September 26, 2019 on the CBS US channel.
Related Shows
X-Files
Prodigal Son
Emergence
The Exorcist
Tags: investigation, demons, exorcism, commission, supernatural