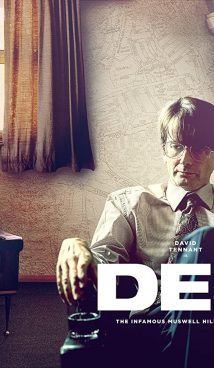 Synopsis
In the new miniseries Des, actor David Tennant transforms into one of the most famous British serial killers, Dennis Nilsen. The three episodes of the short TV-series will tell us about the terrible crimes that Dennis committed. The plot focuses on the first days after Nilsen's arrest when he talks with the police and tells them dispassionately about the murders he committed, in the number of which even the criminal is not sure.
Interesting Facts
Des is the ninth miniseries of the ITV channel, dedicated to the most bloodthirsty murderers of Great Britain. Another one, The Pembrokeshire Murders, will also be released this year — a three-episode TV-series about the Welsh serial killer John Cooper. Luke Evans stars as a detective who investigates the crimes in this miniseries.
Dennis "Des" Nilsen, on whose life story the series is based, killed at least 15 young men in 1978-1983 and was arrested when a plumber found the remains of dismembered victims' bodies in his sewer.
In recent years, the brilliant British actor David Tennant has played murderers quite often. He appears in one of the episodes of the TV-series Criminal: UK, where he is accused of his stepdaughter's death, and in Deadwater Fell he becomes a suspect in the murder of his entire family. And let's not forget the screen adaptation of Jessica Jones comic, where Tennant impersonates Kilgrave, a cold-blooded villain who can control the minds of his victims.
The next Tennant's role on small screens will be the character of Phileas Fogg in the new adaptation of Jules Verne's novel Around the World in 80 Days.
The miniseries Des will be shown on the UK channel ITV in September 2020.
Information
This is a British-made criminal drama TV-series based on real-life events.
The premiere of the first season will take place in September on British channel ITV.
More Like This
Criminal: UK
Deadwater Fell
Dublin Murders
Tags
real-life events, serial killer, maniac, Dennis Nilsen, trial, prison, investigation, David Tennant