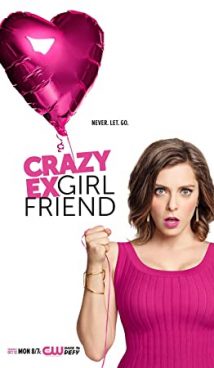 Synopsis
Rebecca Nora Bunch, a successful New York lawyer, is preparing to be promoted to partner at a law firm. One day, she met a young man on the street with whom she was in love at a summer camp for teenagers. Trying to find himself in New York, Josh has failed and is now forced to return to his home. And at one-point Rebecca realizes that her love for Josh has not yet dried up and she wants to be with him no matter what. Quickly quitting her job and packing up her things, Rebecca moves to California after Josh. After settling in the town of West Covina, she got a job at the local bureau and, as if by chance, met Josh. However, the problem is that Josh already has a girlfriend who is not going to leave him. Slowly going crazy, Rebecca doesn't even realize that her behavior is at least strange.
It is noteworthy that almost every episode of the TV series contains a couple of parody songs – fortunately, each actor has wonderful vocal abilities.
Interesting Facts
Originally developed for Showtime, "The Crazy Ex-Girlfriend" TV series eventually moved to CW, where it ran for four years. The final episode, which is a concert with actors performing the best hits of the TV series, premiered on April 5, 2019.
Rachel Bloom, the female lead, is also the showrunner for the TV series. It is noteworthy that Dan Gregor, Rachel's husband, is a co-producer of the TV show. Rachel Bloom won a 2016 Golden Globe Award for her starring role in "The Crazy Ex-Girlfriend" TV series.
Rachel Bloom was originally a creative artist on her YouTube channel. Aline Brosh McKenna, a Hollywood screenwriter who has worked in particular on "The Devil Wears Prada", once noticed Rachel's work and was very impressed with it. By contacting the girl and referring to her own old acquaintances from Hollywood, Aline helped to ensure that "The Crazy Ex-Girlfriend" TV series was taken into development.
About
The Crazy Ex-Girlfriend is American-made musical black comedy TV series with the first season premiered on October 12, 2015.
Related Shows
Unbreakable Kimmy Schmidt
Don't Trust the B—- in Apartment 23
Zoey`s Extraordinary Playlist
The Good Place
Tags: music, parody, satire, black comedy, musical, tragicomedy, California, love, romance