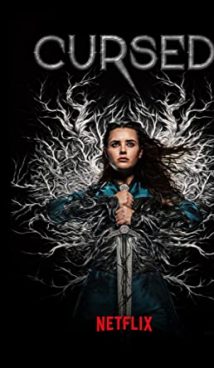 Synopsis
The series Cursed will show us the plot of the British epic about King Arthur from an unexpected point of view. No, the main character here is not the wizard Merlin nor one of the Knights of the Round Table. This time we will see this story by Nimue's eyes, whom we know as the Lady of the Lake, the one who gave the Excalibur to King Arthur.
The novel and the series creators Frank Miller and Tom Wheeler have significantly changed the mythological plot. Nimue appears as a young fairy girl who is fighting for the survival of her kind with the Red Paladins, aggressive priests seeking to destroy all magical creatures.
On her journey, she will meet Merlin, Arthur, Morgana, and Percival, but in the series, they look completely different from how we usually imagine them.
Interesting Facts
Work on the TV-series started even before the novel, on which it is based, was officially released.
Illustrator Frank Miller, who created both the novel and the series, is a famous comic book writer. Miller has worked with both DC and Marvel. His most famous works are the comics Sin City and 300.
The actress Katherine Langford, who portrayed the main character in Cursed, became famous for the popular TV-series 13 Reasons Why. She is Australian, from the city of Perth. Langford was supposed to become a part of the MCU and even starred as the grown-up daughter of Iron Man in the blockbuster Avengers: Endgame. However, the scene with her was not included in the final cut. In the future, we will see Langford in the sci-fi movie Spontaneous, where she joins Piper Perabo.
The Swede Gustaf Skarsgård, who is just beginning his film career in the USA, portrayed the wizard Merlin. His father Stellan and brothers Bill and Alexander are already well-known in Hollywood and playing roles in the biggest blockbusters. Gustaf, meanwhile, has the most prominent role as the shipbuilder Floki from the Vikings TV-series.
Cursed was filmed for the streaming giant Netflix and is globally available to the platform subscribers from July 17, 2020.
Information
This is an American-made fantasy TV-series based on the Frank Miller and Tom Wheeler's graphic novel of the same name.
The premiere of the first season took place on July 17, 2020 on the Netflix streaming platform.
More Like This
The Witcher
The Umbrella Academy
Game of Thrones
Warrior Nun