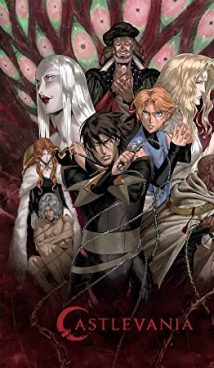 Synopsis
The new season of Castlevania continues the story of Trevor Belmont (Richard Armitage), who is fighting the Dracula army in Wallachia.
Based on the Castlevania Universe, the animated series is considered to be one of the most successful video game adaptations in history.
After Count Dracula's defeat in the final of the second season, the allies will have to continue the war with the minions of the powerful vampire, who still threaten the world. Dracula's son Adrian seeks his own path and meets two vampire hunters from distant Japan; Isaac tries to take revenge on Hector, and Trevor and Sypha travel around Europe.
Interesting facts
Actors Richard Armitage and Graham McTavish, who gave voices to Trevor Belmont and Dracula, met on the filming set of the Hobbit trilogy, where they played the roles of gnomes Thorin and Dwalin.
Warren Ellis, the creator of animated series, is himself the author of comics. In particular, he created Transmetropolitan, a cult graphic novel that is still awaiting its adaptation.
Saint Germain, a new character, appears in the third season of Castlevania. He is voiced by the popular English actor Bill Nighy.
Adrian Tepes is named Alucard. This is Dracula the other way around.
Information
The American-made animated series is based on the eponymous video game universe and shot in the adventure genre.
The third season premiered on March 5, 2020 on the Netflix platform.
You can watch the series trailer online on the website without registration. You can also find interesting facts about the series and find out the release date in Russia.
 FAQ
What channel is producing the series?
All seasons of animated series are released on the Netflix streaming platform.
When did the season come out in Russia?
The entire season is available on Netflix from March 5, 2020.
Netflix has not yet announced its plans to extend Castlevania.
Related Series
Love
Death & Robots
Fullmetal Alchemist