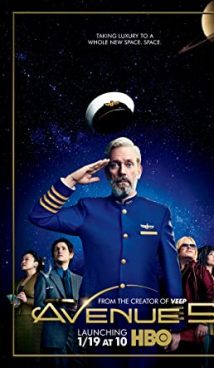 Synopsis
An absurd black comedy. Action takes place somewhere near the orbit of Jupiter. Armando Iannucci that created this series, a producer famous for his political satire series called 'Veep,' invites us to take a trip on the luxurious 'Avenue 5' spaceship. However, this vacation will not go without unexpected plot twists: an accident sends the ship far off course, and the return will be delayed for years.
The series subtly mock the genre of cosmoopera, turning everything upside down with a dash of the absurd.  The brave captain (Hugh Laurie) is just an actor, the classic pilothouse with pilots is nothing more than a fiction, and the owner of the entire corporation, German Judd (Josh Gad), is a stupid adult child.
An American television series in the genre of absurd comedy.
The first season was premiered on January 19, 2020 on HBO.
Fun facts
 – The previous satirical film called 'The Death of Stalin' by Armando Iannucci was banned in Russia.
 – Ethan Phillips, who played the role of a former astronaut, starred in the series
 'Star Trek: Voyager.' Its plot involuntarily repeats the plot of 'Avenue 5' – a spacecraft crew struggling to return home.
 – The series was renewed for a second season while the first one was still being broadcasted.
 – The series was shot entirely in the UK, with most of the filming taking place in Leavesden at Warner Bros. studios. This set – a former airfield – is famous for its Harry Potter films.
 FAQ
What channel broadcasts series?
HBO Channel.
When was the first season released?
On January 19, 2020
Yes, HBO extended 'Avenue 5' for a second season on February 13, 2020.