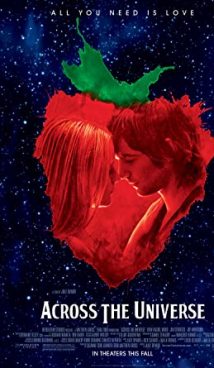 PG-13
02 hours 13 minutes
Synopsis
The legendary Across the Universe is not just a love story. It takes place in the background of major world events of the 1960s. This film is a tribute to perhaps the most famous rock band in history, The Beatles. From the very beginning, Across the Universe is a musical where the main characters perform songs of the great Liverpudlians.
Wonderful young actors, amazing work of artists, nearly three dozen iconic compositions by The Beatles — what else would you like to see to fall in love with Across the Universe?
Interesting Facts
Across the Universe was presented to viewers at the Toronto Film Festival in Canada on September 9, 2007, and then was released worldwide.
All actors sing their parts on their own.
Also, Across the Universe has lots of celebrity cameos. U2's vocalist Bono appears in the role of Dr. Robert, who was copied from the writer Ken Kesey. We also see Joe Cocker portraying three characters at once when he performs Come Together. Besides, there are five Salma Hayeks in the film since the actress played the role of five identical nurses.
Most of the film budget ($10 million) went to pay for the right to use The Beatles' compositions.
Oddly enough, despite the popularity of the film, neither the actors nor the director of the film did not have successful careers. Since then, neither Jim Sturgess nor Joe Anderson have had main roles. Only Evan Rachel Wood now shines in the very popular TV-series Westworld.
Information
This is an American-British co-production musical drama film.
The world premiere of Across the Universe took place on September 9, 2007, at the Toronto Film Festival.
More Like This
The Doors
Rent
Frida
Moulin Rouge!
Tags: music, drama, musical, romance, love, history, The Beatles