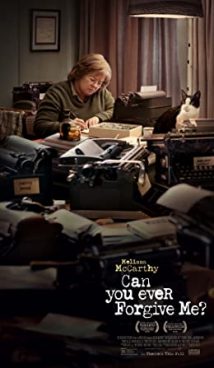 Synopsis
"Can You Ever Forgive Me?" tragicomedy film tells a completely real story of Li Israel, not the most successful writer. Since Lee cannot provide herself with writing autobiographies, she decides on an adventure – a woman prints letters from famous personalities with her own hand, and then sells them to a friend in a bookstore. The writer even started working with an accomplice. However, how long can this scam last?
Interesting Facts
"Can You Ever Forgive Me?" film was presented at the Telluride Film Festival on September 1, 2018. Having traveled to film festivals all over the world throughout the fall, it was released in wide distribution in early 2019. From February 22, 2019, the film is available for viewing on major streaming services.
The critically acclaimed, "Can You Ever Forgive Me?" film received three Academy Award nominations – for Best Adapted Screenplay, Best Actress (Melissa McCarthy) and Actor in a Supporting Role (Richard E. Grant). However, none of the nominations earned an Oscar, and Melissa McCarthy lost to Olivia Coleman. It is noteworthy that Grant and McCarthy received nominations for the rest of the main awards in the cinema world – Golden Globe, BAFTA and Screen Actors Guild of the USA – and lost to other applicants in the end.
Initially, it was Julian Moore who was supposed to play the role of the writer Lee Israel and Sam Rockwell could play the role of Jack Hawk, the second swindler.
"Can You Ever Forgive Me?" film is based on the autobiography of the same name by Lee Israel.
About
"Can You Ever Forgive Me?" is an American-made tragicomedy film based on true story. The movie premiered on September 1, 2018 at the Telluride Film Festival.
Related Films
The Wife
The Favourite
A Beautiful Day in the Neighborhood
Tags: based on true story, comedy, drama, biography, fake, writer, scam, Melissa McCarthy