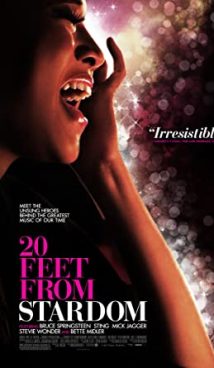 PG-13
01 hours 31 minutes
Synopsis
Twenty Feet from Stardom is an honest story about artists who, although they stand on stage with music stars, still remain in their shadow. This documentary is about backing vocalists. We do not know their names, but without these vocalists, almost any concert is doomed to fail.
Interesting Facts
Twenty Feet from Stardom was first shown to the audience of the Sundance International Film Festival in January, but it was released to the general public only in July. Over the following years, the film received two dozen different awards, including the most valuable one, Oscar, for the best documentary picture and Grammy for the best musical film.
The film was even a relative box office success — Twenty Feet from Stardom grossed five million dollars (with a budget of one million).
The film features interviews with not only backing vocalists but also with music stars such as Mick Jagger, Sting, Bruce Springsteen, Stevie Wonder, Sheryl Crow, and others.
Morgan Neville, director of the film Twenty Feet from Stardom, specializes in documentaries. In 2018, his film Won't You Be My Neighbor? about American TV-presenter Fred Rogers broke all records, grossing $23 million in theaters, and became the highest-grossing biographical documentary in history. In recent years, Neville has been actively collaborating with the Netflix streaming service. In particular, he created the wonderful popular science series called Abstract: The Art of Design.
Information
This is an American documentary.
The world premiere of Twenty Feet from Stardom took place on January 17, 2013, at the Sundance Independent Film Festival.
More Like This
Searching for Sugar Man
Amy
What Happened, Miss Simone?
Standing in the Shadows of Motown
Tags: music, documentary, concert, interview, backing vocalists