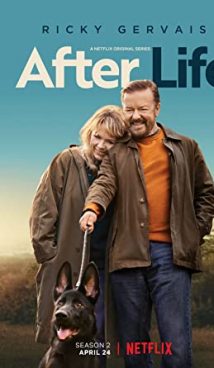 Synopsis
A hilarious black comedy-drama in the best traditions of the British school of television. Widower Tony (Ricky Gervais) is trying to move on with his life after the death of his wife. In the first season he tries to commit suicide, then decides to take revenge and punish the world by speaking his mind and doing what he wants. But the world is not as bad as he thinks, and the people around Tony are trying to help him overcome the difficult times and turn him into a better person. An excellent dramedy, a brainchild of the famous British comedian Ricky Gervais, who acted as an actor, director and screenwriter.
Interesting facts
Ricky Gervais can boast to have collected seven BAFTA Awards statuettes (a British equivalent of the Oscars), two Emmys and three Golden Globes. Among other things, he is the winner of the 2019 Richard Dawkins Awards for the Promotion of Atheism.
Ricky Gervais together with his friend Stephen Merchant created the The Office series, a prototype of the mega-popular American show with Steve Carrell and John Krasinski.
 In January 2020, Ricky Gervais hosted the Golden Globe ceremony for the fifth time and  made a provocative speech about the state of the film and television industry using his trademark satire. Some of the jokes were on the verge, but Ricky justified himself by saying that he would no longer host the awards. In his speech, he also made a small promotion of After Life.
Information
A British television tragicomedy series.
The second season was premiered on April 24, 2020 on Netflix.
You can watch the series trailer online on our website without registering. You can also find interesting facts about the series and its release date.
FAQ
What streaming platform released the series?
Netflix.
When was the second season released?
The whole season was first aired on March 8, 2019.
More like this
Derek
The Office (UK)
Extras
Tags: dramedy, tragicomedy, black comedy, drama, spouse's death, journalist, England