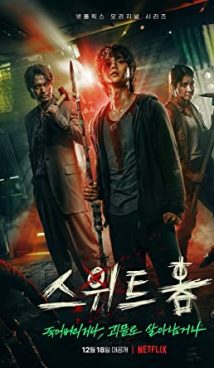 Synopsis
As a result of the monsterpocalypse that came on one not very good day, people began to turn into monsters reflecting the darkest corners of their souls.
Those who survived, residents of a South Korean residential complex, barricaded themselves in their building. Forced to sit behind locked doors, they share provisions and even fight back monsters. However, how long can they live like this while each person is a potential monster – even if the transformation has not yet taken place?
Survivors will have to not only go throw relational problems, but also to confront external threats in the face of monsters, marauders and very unfriendly military. In addition, there is a young man Cha Hyun-su who has already turned into a monster, but preserved something human and now is trying to help his neighbors. However, the question is, will the others be able to accept the guy in his new guise?
Interesting Facts
The TV show premiered on December 18 on Netflix streaming platform. All 10 episodes of the television series immediately became available for viewing. Although Netflix still hasn't made any announcements about the future of the TV series, the cliffhanger in the finale and the success with viewers clearly hints at the likely second season.
"Sweet Home" is based on a three-year online comic with a final chapter released on July 2, 2020. After its premiere in South Korea, this 'manhwa'-series (the South Korean equivalent of manga) has become popular in Western countries.
"Sweet Home" is the first South Korean TV show managed to be ranked No. 3 on Top TV Shows in Netflix US.
About
Sweet Home is a South Korean TV series based on the fantasy drama web comic of the same name. The first season of the TV show premiered on December 18, 2020 on Netflix.
Related Shows
Kingdom
Ingansuoep
Alice in Borderland
Tags: drama, fantasy, apocalypse, end of the world, monsters, survival, South Korea, horror