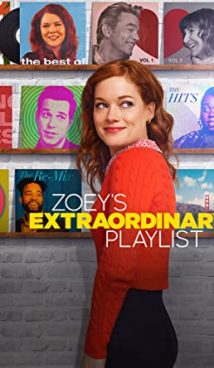 TV-14
01 hours 00 minutes
Synopsis
Meet Zoe. She is a calm girl with nothing extraordinary happening in her life. She works for a serious IT company, goes to bed early, and listens not to music, but podcasts about science. One day a girl was having a scan when suddenly there is an earthquake. Something strange happens and Zoe starts to hear other people's thoughts. Surprisingly, they are not in the form of words but the form of popular songs. Suddenly all her friends and neighbors start singing. Zoe is perplexed and asks for help from a noisy neighbor Mo, who is an expert in music. There is no cure for this superpower, and Zoe has to somehow adapt. And start singing too…
Interesting Facts
After the first season finale in June 2020, NBC reported that Zoey's Extraordinary Playlist was renewed for the second season. However, we will have to wait until 2021.
Actress Jane Levy made her debut in the popular TV-series Shameless, where she performed in the first season. Then she got the lead role in the comedy TV-series Suburgatory, and Shameless showrunners had to find a replacement. Interestingly, Jane Levy portrayed several roles in the horror movies directed by Fede Alvarez that got her the horror queen status in the press. At the moment, Levy is only busy with the new season of Zoey's Extraordinary Playlist.
For Zoey's Extraordinary Playlist, the producers cast actors who have already sung in other TV-series. These are, for example, Alex Newell from Glee, and Skylar Astin from Crazy Ex-Girlfriend, and Mary Steenburgen from The Last Man on Earth.
Information
This is an American-made musical comedy TV-series.
The premiere of the first season took place on January 7, 2020 on the American channel NBC.
More Like This
Suburgatory
Dollface
Upload
Love Life
Glee