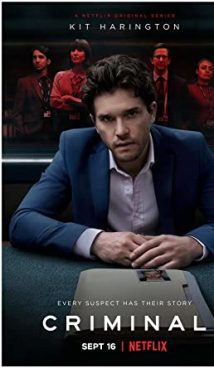 Synopsis
This is another unusual detective television series.
"Criminal" is a unique multi-serial pan-European project, all actions of which take place exclusively in an interrogation room. Excellent acting and polished script are the main features of this TV show.
Each episode shows an interrogation – the suspect and his lawyer are on one side of the table while the detective is on the other. The police team is behind the mirrored glass. Spectacular cat-and-mouse game awaits the audience, and the finale of each episode is quite unexpected, as befits any outstanding detective film.
Interesting Facts
Four related series, representing a detective anthology, were released in 2019. Film crews from Great Britain, Spain, Germany and France, four European countries, presented three episodes each. With its own directors and screenwriters from the named countries, each three-episode block was filmed in their native language. Only the interrogation room unites all these episodes. By the way, all episodes of the television series were filmed in a Madrid studio.
Although the fate of the Spanish, German and French miniseries is still unknown, the British one was continued with four new episodes.
Season 2 will premiere on September 16, 2020 on the Netflix streaming platform and all episodes will be immediately available for viewing.
Sophie Okonedo, Sharon Horgan, Kunal Nayer (Raj Koothrappali from "The Big Bang Theory") and Kit Harington (Jon Snow from "Game of Thrones") will play the suspects in the new season. As for the latter two, "Criminal" will be their first major on-set appearance since the series finale that made them famous.
About
"Criminal" is a British-produced detective thriller television series. The Season 2 titled "Criminal: United Kingdom" will premiere on September 16, 2020 on the Netflix streaming platform.
Related Shows
Collateral
Broadchurch
Safe
Deadwater Fell
Tags: detective, interrogation, police, suspects, crime